Here are the best pictures from 2020
Published 2021-01-12 by Peter Ternström
It is that time of the year again. The time when we browse through thousands of pictures taken from the previous season, and select the very best.
Images that have that extra touch or that extra something that makes it stand out from the rest. A tradition since 2013.
Pictures by James Holm, Nicolas Grandi and drone shots are by Luca Brunetti.
Here are the top 30 ones.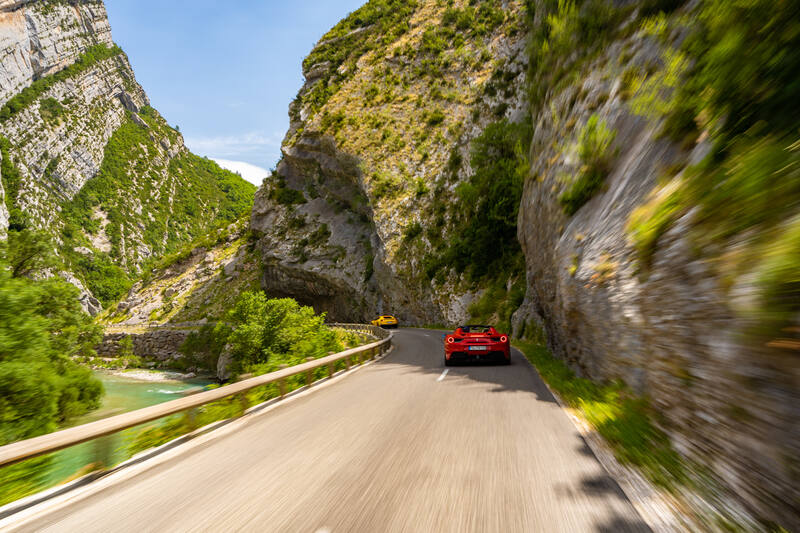 30. New road for 2020: Gorges du Verdon. Going from Castellane to Saint-Tropez you can drive this beautiful road. See that water? It is absolutely freezing, no matter what time of the year. We drive this road on Gran Turismo Riviera and Gran Turismo Europa.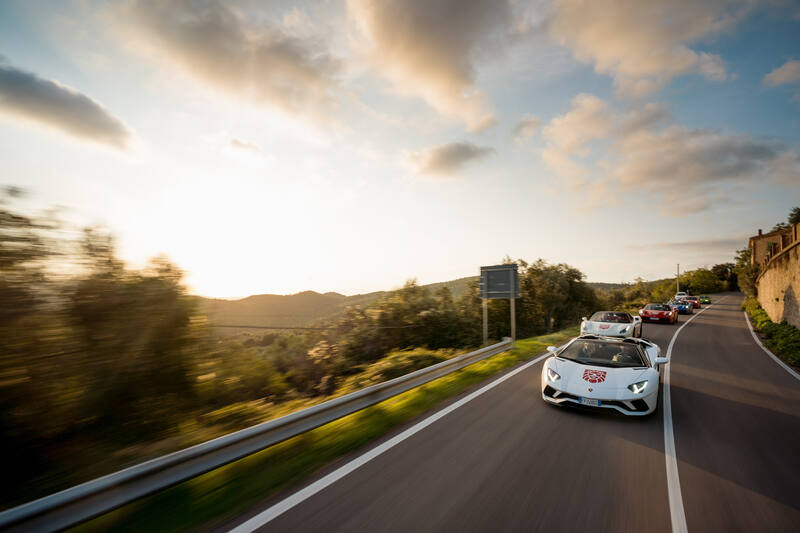 29. Open top Aventador in the sunset. This is one of our favourite roads in Tuscany. SP441 - Strada per Montemassi. Picture is taken at the roads end, which is near Grosseto. From Gran Turismo Toscana.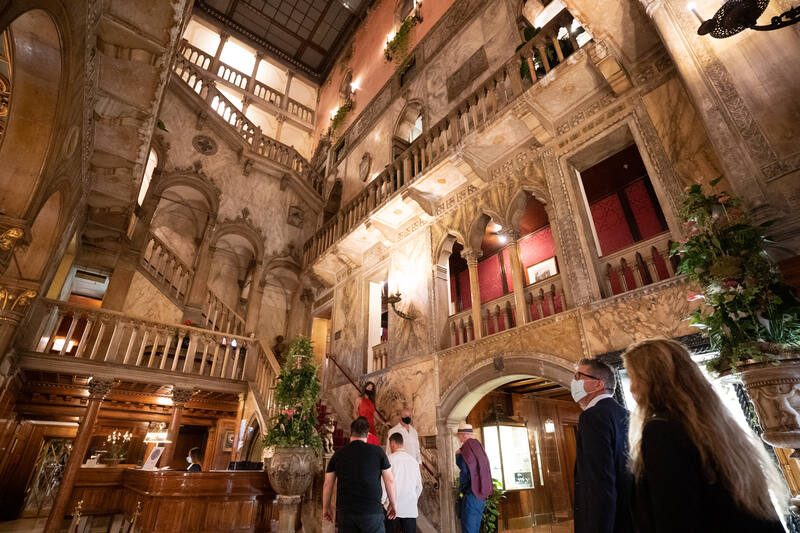 28. Terrazza Danieli. Across the water from Hotel Cipriani in Venice lies this famous restaurant. Up the stairs to the top floor and then you have dinner on a terrace with a magnificent view over the city. (The bill is also magnificent, just so you know.)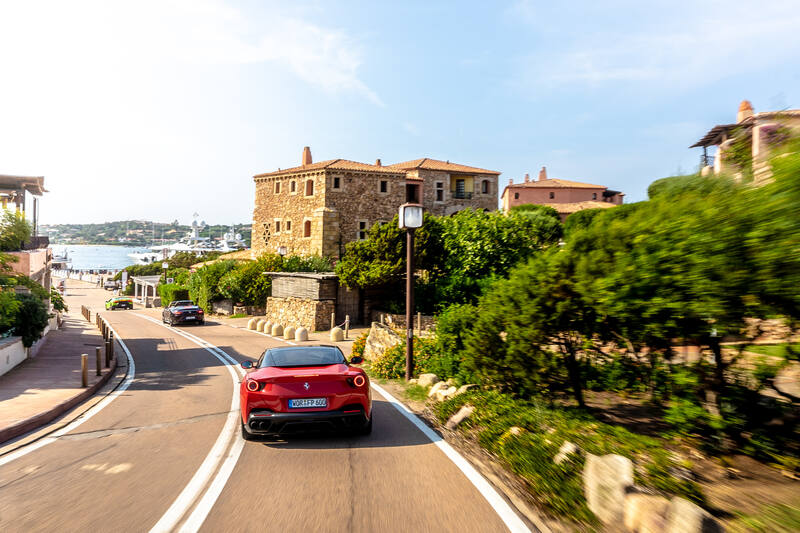 27. Approaching Porto Cervo on Costa Smeralda in the north east corner of Sardinia. Porto Cervo is the most important summer location for the economic elite of the world. More than Monaco or Saint-Tropez. From Gran Turismo Italia.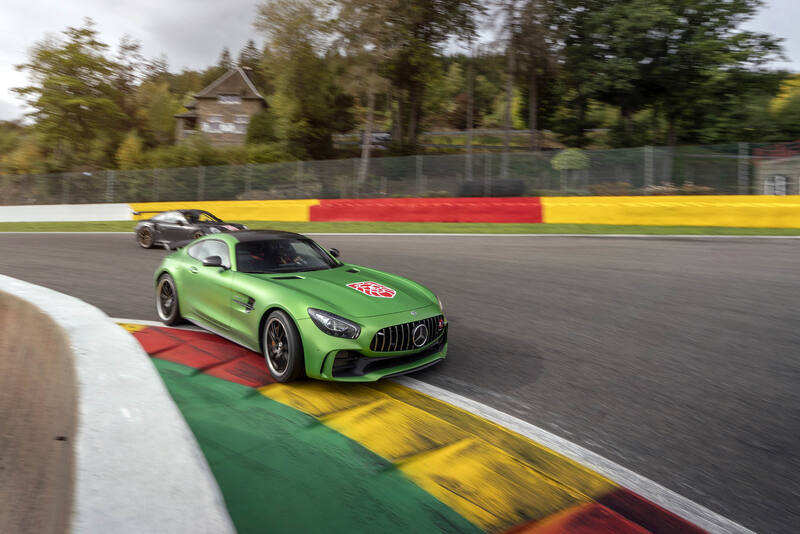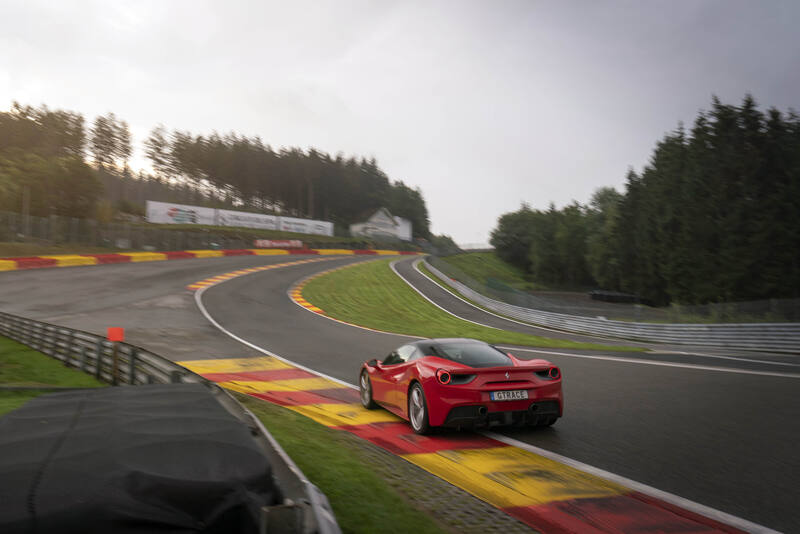 26-25. Markus Hendriksen and Ulf Magnusson battling for the best lap times on Spa-Francorchamps.For the 2020 season we introduced a new classification system for King of Gran Turismo with many more classes and lot's of more fun.
Gran Turismo Spa is 9-12 of August, and Gran Turismo Nurburgring is 6-9 of September.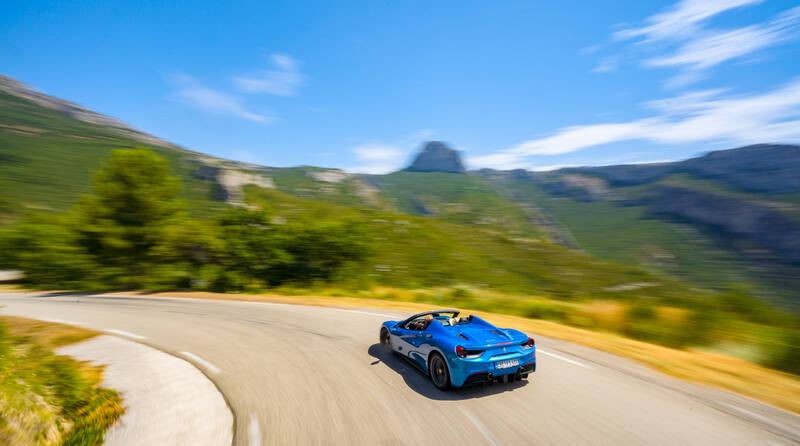 24. New road driven: Col de l'Espigoulier. A cozy mountain pass an hour from Saint-Tropez, near the legendary racing track Paul Ricard. We drove this during our Riviera event in July.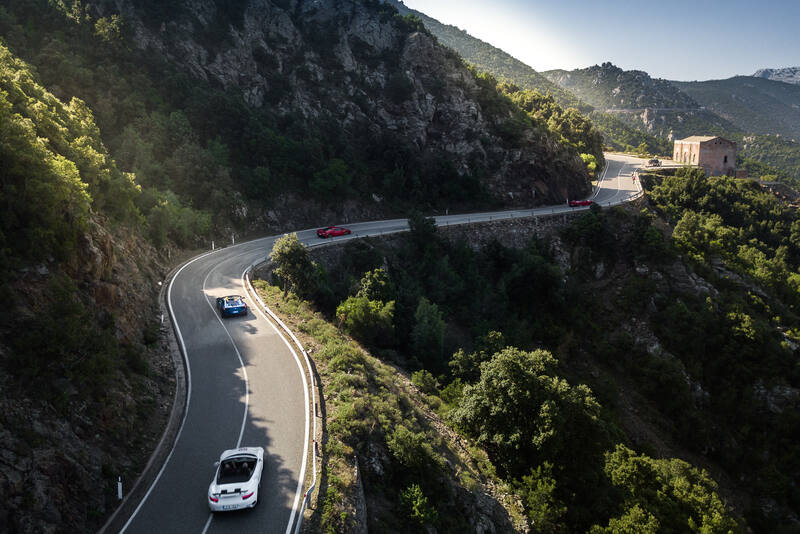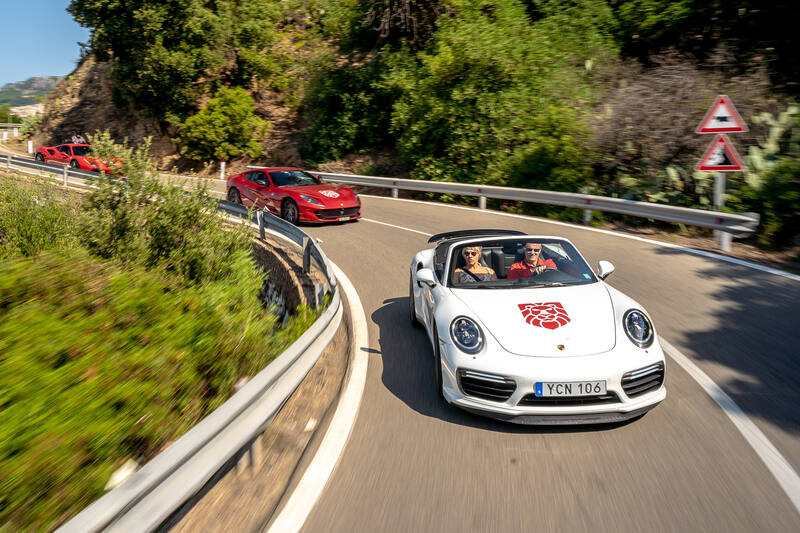 23-22. Say hello to the best road in the world. SS125 - Orientale Sarda on Sardinia. We drove it for the first time this summer and we absolutely love it. We have driven pretty much all the other great roads in Europe, and this is the very best. Gran Turismo Italia.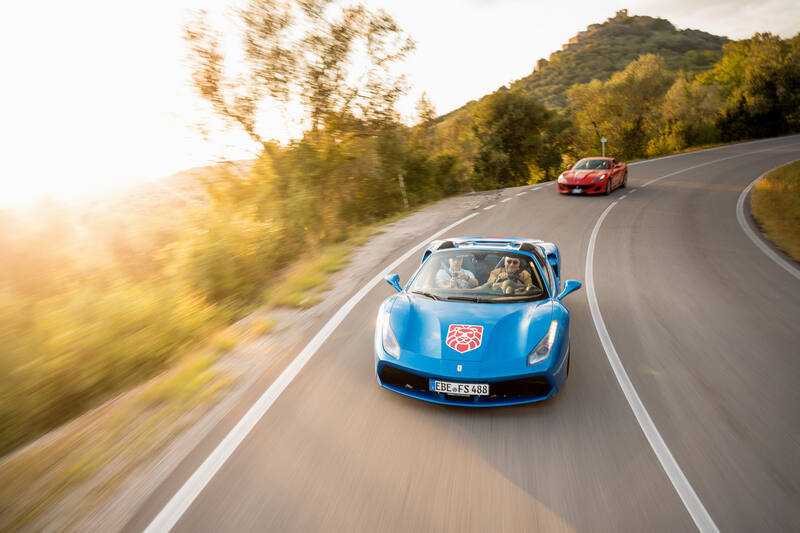 21. Italy. Another great picture from Italy, this from our annual Tuscan road trip.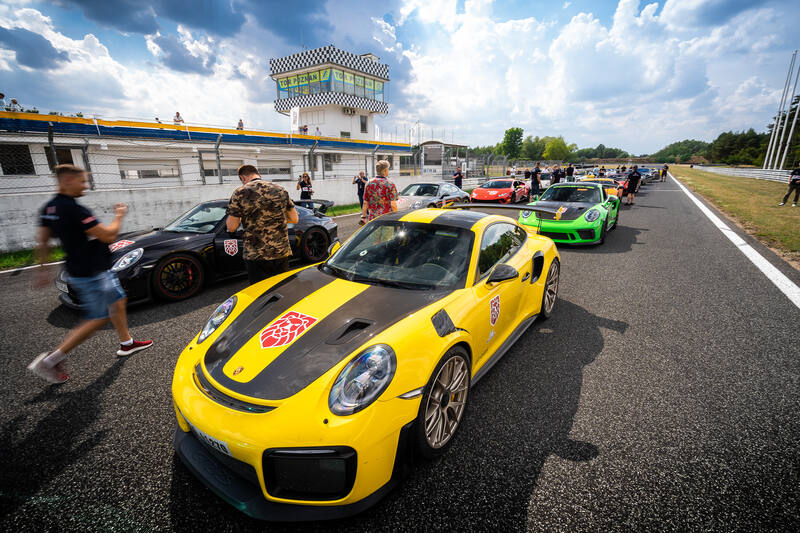 20. Lining up on the main straight on Tor Poznan. The 2020 edition was a light version of the event, with just under 50 cars attending. Still good fun though!
Gran Turismo Polonia 2021 has already over 100 supercars registered. The event will start in Wroclaw with a mighty road trip to Krakow and Warsaw, before arriving to Poznan for two days on the racetrack.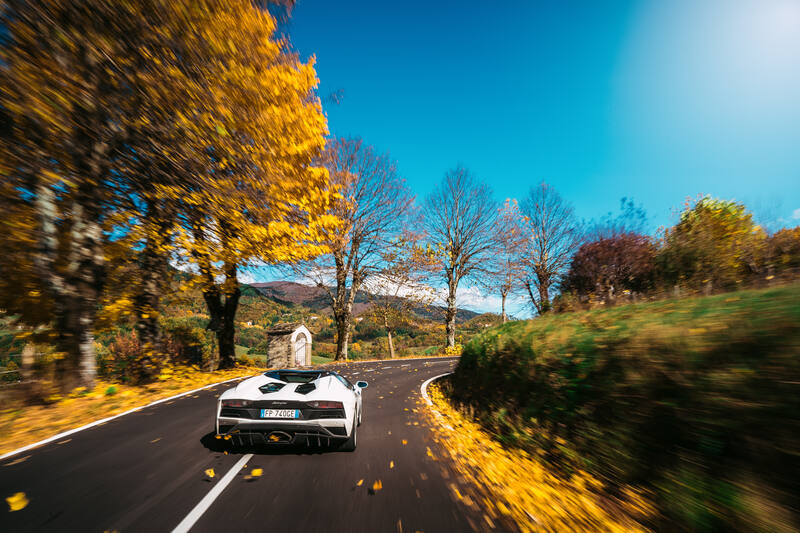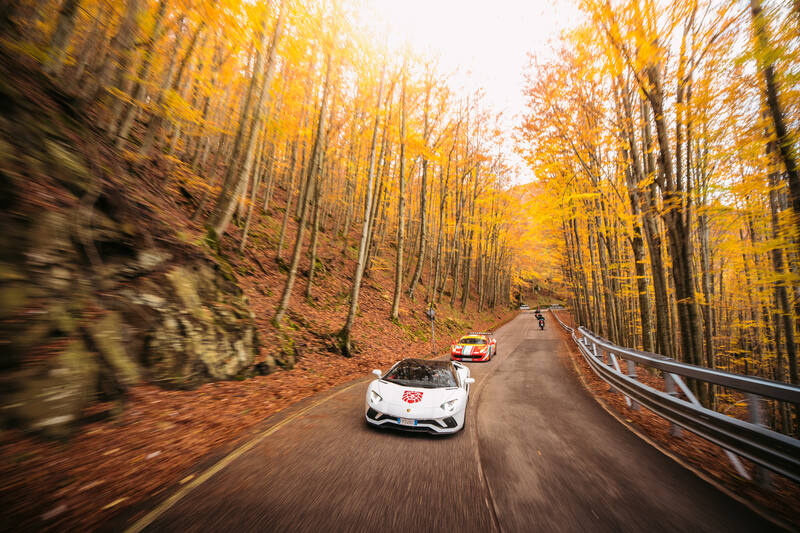 19-18. Autumn in Tuscany. From our annual Tuscan road trip. This year, our Tuscan long weekend escape is two days longer and starts in Maranello. The first day we visit Lamborghini and Ferrari. The second day, the driving starts, with Abetone Pass to Tuscany. Gran Turismo Toscana.
17. Marcin Jellinek spreading lies and desinformation to the media, as always. Press conference for Gran Turismo Polonia outside Andersia Hotel in Poznan. Gran Turismo Polonia.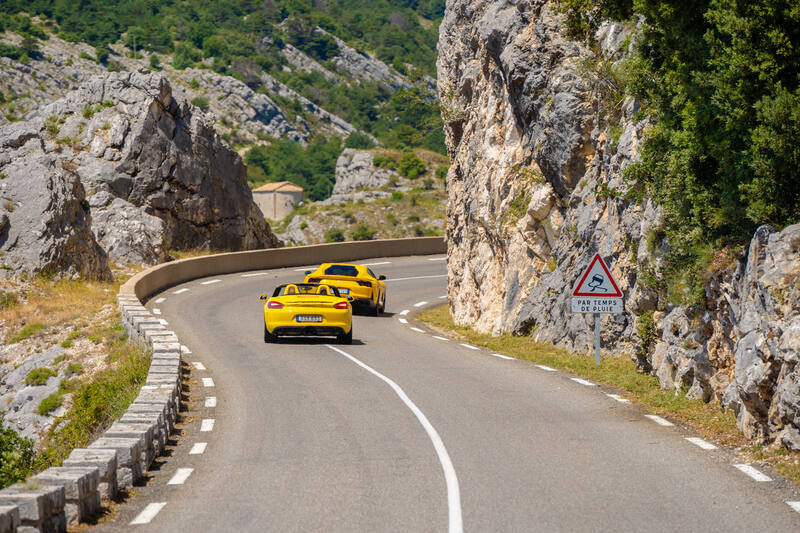 16. Route Napoleon The stretch between Grasse and Castellane is one of the five best roads in Europe. We drive this road on both Gran Turismo Riviera and Gran Turismo Europa in 2021.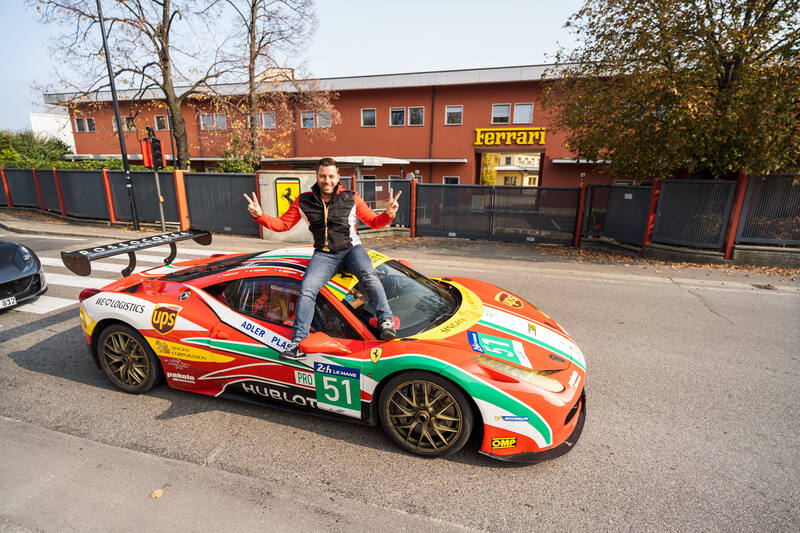 15. The famous old factory gate. Federico Crozzolo posing on his friend Torbjörn's street legal Ferrari 458 Challenge. From our annual event following Mille Miglia.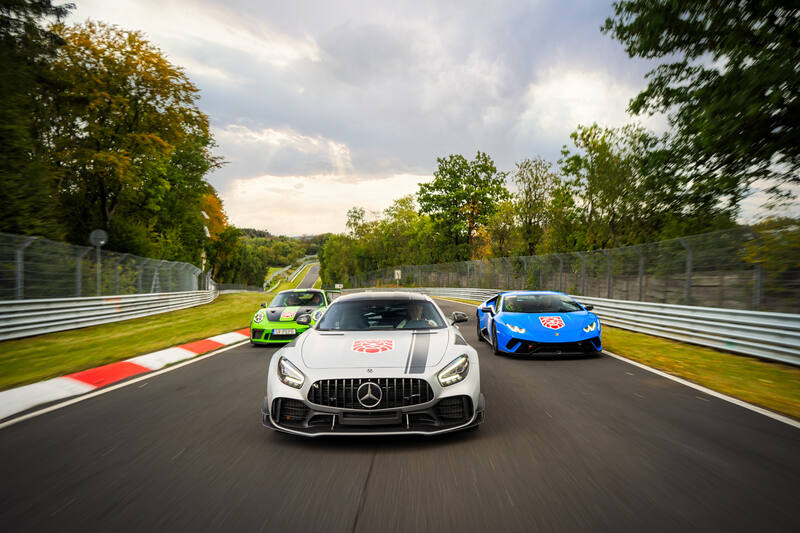 14. Nurburgring Jonas Liljenberg, Hans Hedin and Piotr Koczy on the Nurburgring. Gran Turismo Nurburgring has been moved from May to 6-9 of September.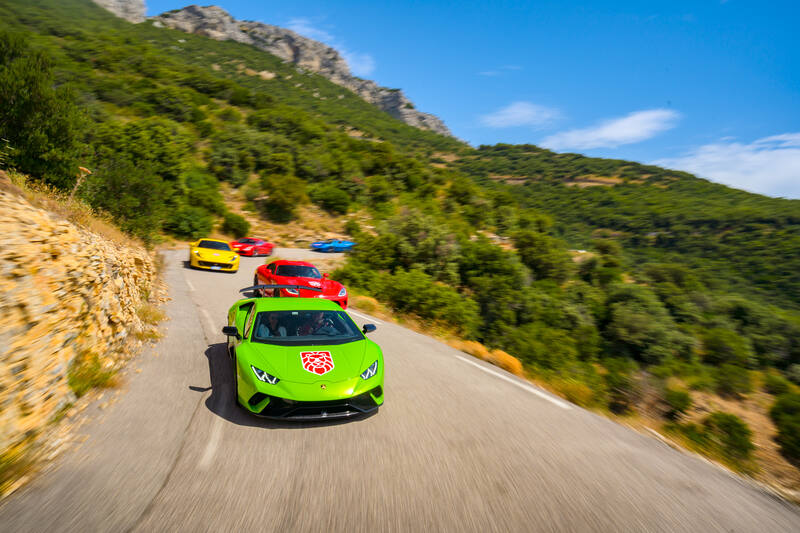 13. Team Skittles. This very colourful group of cars going down hill on Col de l'Espigoulier in Provence during Gran Turismo Riviera in July.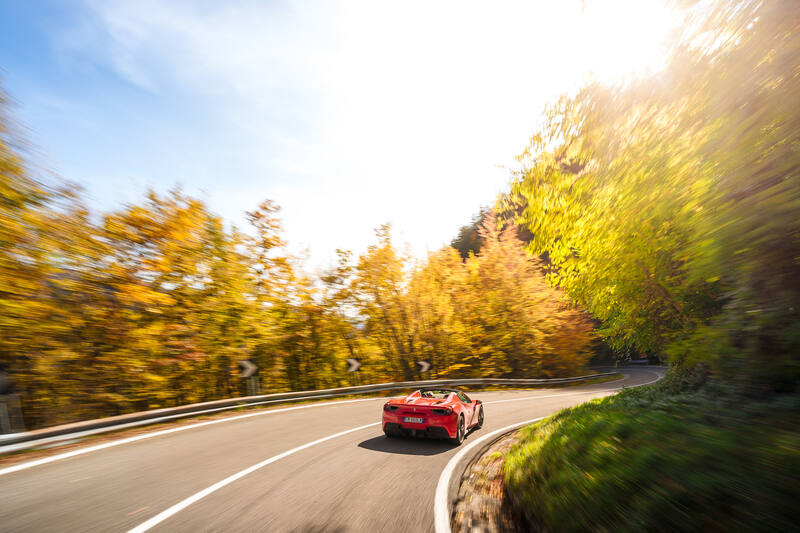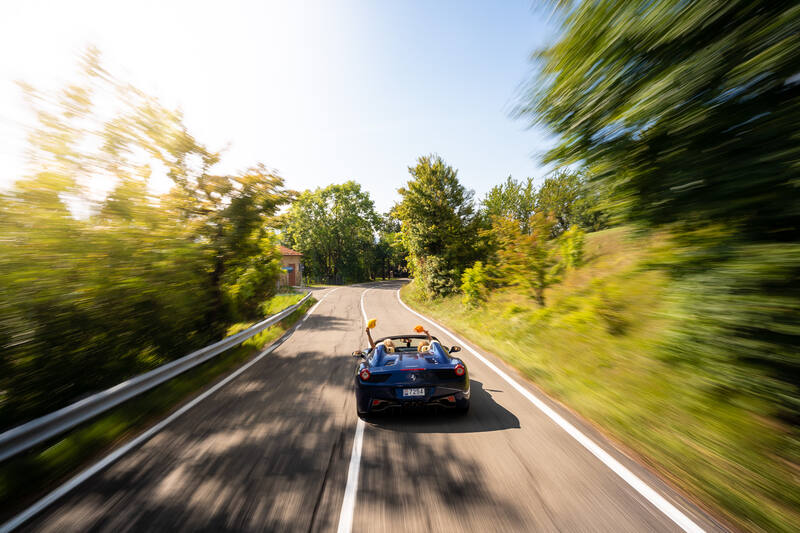 12-11. We just can't get enough of the Abetone Pass. It is an absolutely fantastic drive. The road starts just south of Maranello and goes over the mountain to Pistoia in Tuscany. We will be going back here this year for Gran Turismo Italia and Gran Turismo Toscana.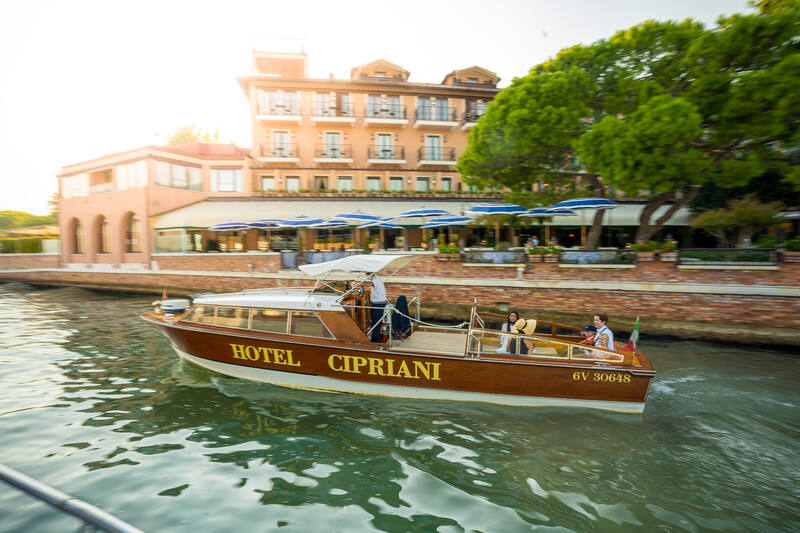 10. The extremely pretty Hotel Cipriani in Venice. This is surely one of the top ten hotels in the world. An amazing experience during Gran Turismo Italia 2020. The next edition of the event, Gran Turismo Italia 2021, starts in Portopiccolo near Trieste and goes to Rome.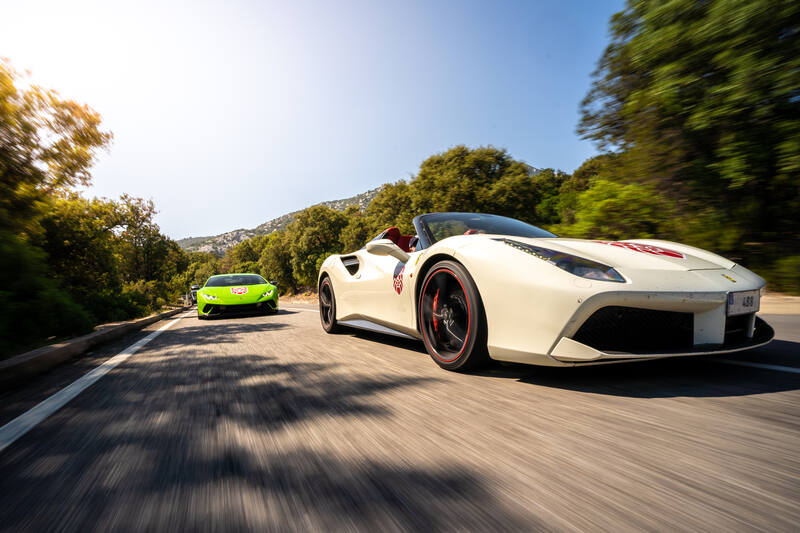 9. Mika Laurino in the rare situation of actually being in front of the green Huracan. This photo is from the road down hill to Cala Gonone on Sardinia. Sardinia has some of the best roads on the planet. We hope to organise a new event there in 2022.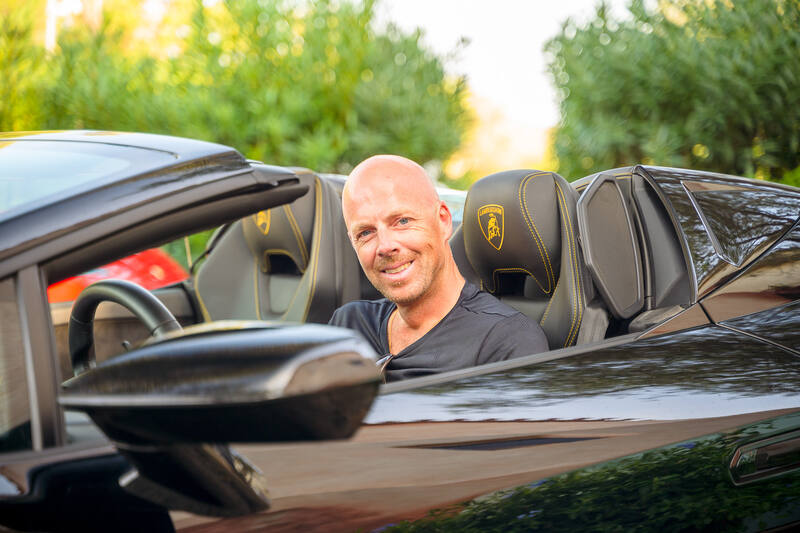 8. Håkan Bengtsson in his Lamborghini Huracan Spyder on Sardinia. Gran Turismo Italia.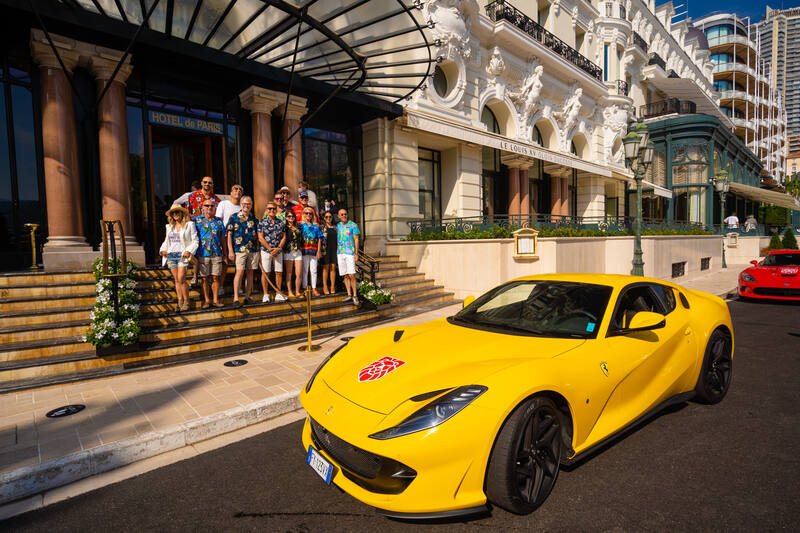 7. Hawaii shirts outside Hotel de Paris. We had the entire group joining Gran Turismo Riviera wearing Hawaii shirts in Monaco. Picture taken just before we drove north to Route Napoleon and then to Saint-Tropez. Even though we were only ten cars joining, this was an amazing experience in 2020.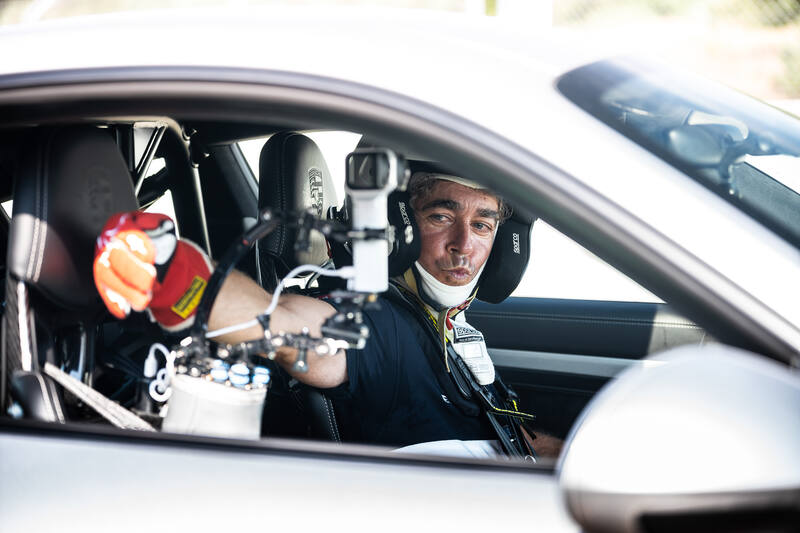 6. Jesper Otterbeck getting to know our 3D recording rig. From Gran Turismo Polonia. You can see our 2D and 3D movies here.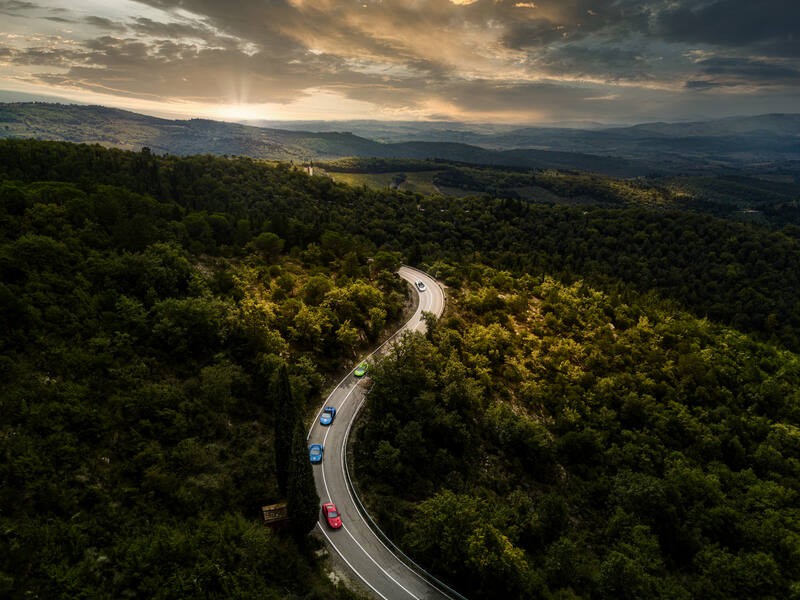 5. Dramatic sunset in Chianti. Another great drone shot by Luca Brunetti.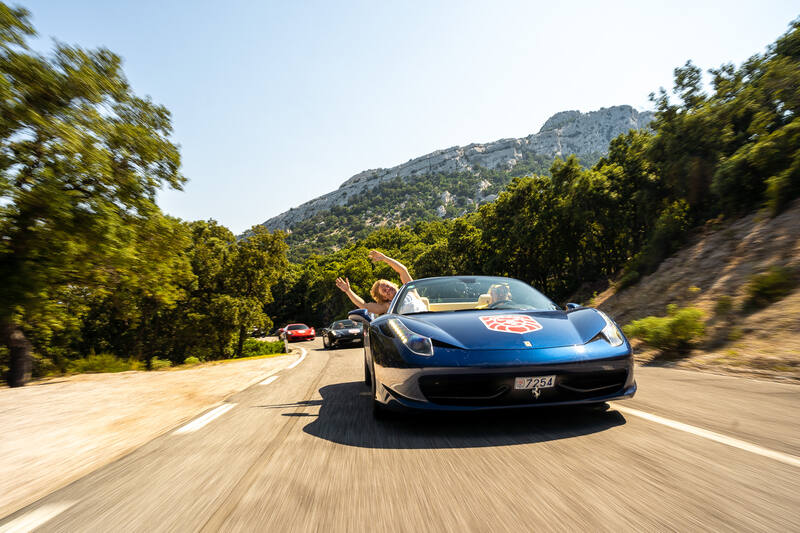 4. Pawel and Bernard from Monaco Here is Pawel and his son Bernard on tour with us on Sardinia during Gran Turismo Italia.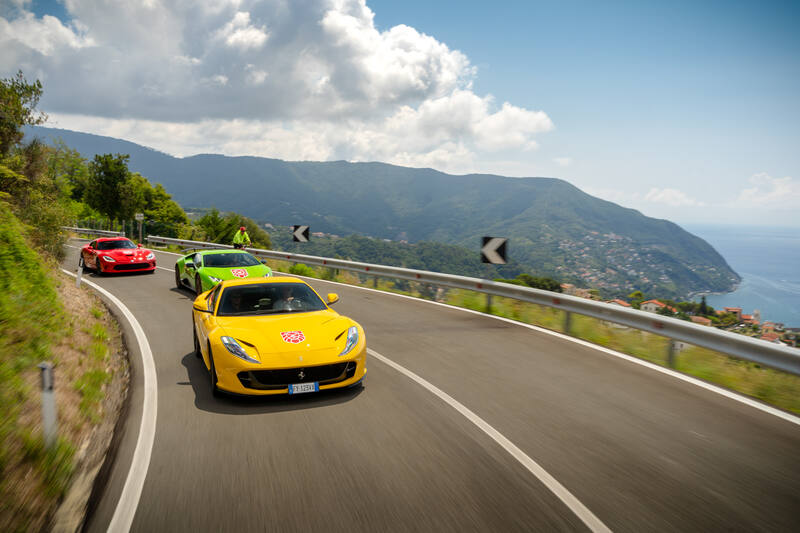 3. SS1 - Bracco Pass. A fantastic road between La Spezia and Sestri Levante. Now, with brand new road surface. Easily the most entertaining road on the Riviera. Gran Turismo Riviera.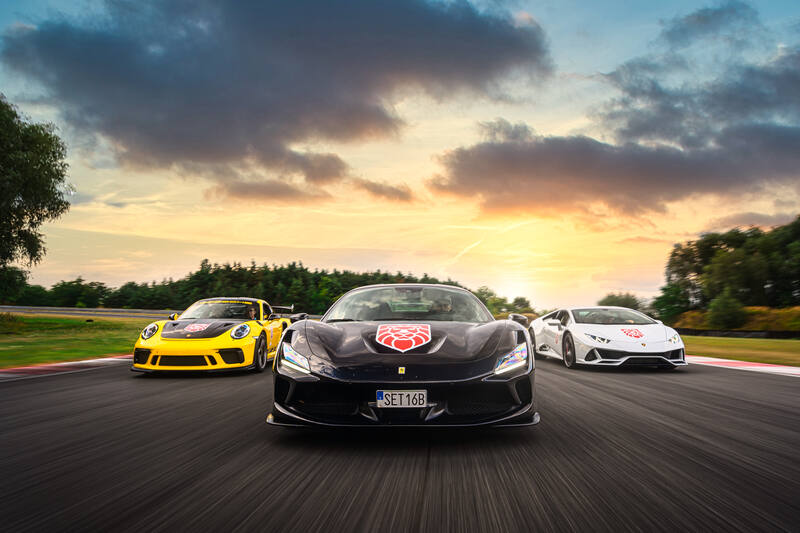 2. This dramatic picture from Tor Poznan in Poland. This year, over 100 supercars are already registered for our iconic event Gran Turismo Polonia.
1. Tuscany with a Ferrari 488 Spider. Great roads and weather, fantastic food and wine. Add a convertible supercar and life can not get any better.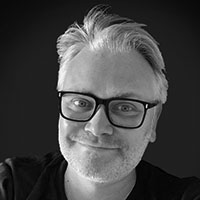 peter@granturismo.org