Did you know? Rolex was founded in London.
Published 2023-02-14 by Zdravko Anticic
Rolex is a brand that has become synonymous with luxury, prestige, and quality. For over a century, the Swiss watchmaker has been creating some of the most sought-after timepieces in the world. However, the story of Rolex goes far beyond just creating luxury watches. It is a story of innovation, perseverance, and an unwavering commitment to excellence.
The story of Rolex began in 1905, when a young German entrepreneur named Hans Wilsdorf and his brother-in-law, Alfred Davis, founded a company in London that specialized in importing Swiss movements and fitting them into watch cases. They sold these watches to jewelers, who then put their own names on them.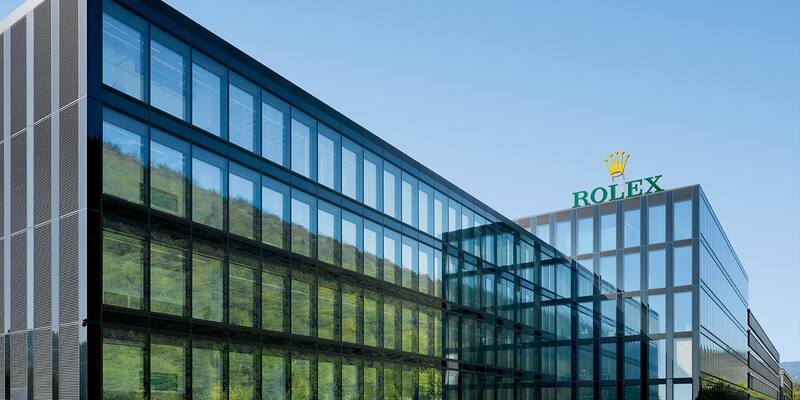 However, Wilsdorf had a vision of creating his own brand of watches that would be reliable, accurate, and stylish. In 1908, he registered the trademark "Rolex" and began producing watches under this name. The name "Rolex" is said to have been chosen because it was short, easy to pronounce in any language, and looked good on a watch face.
The early years of Rolex were not without their challenges. Wilsdorf faced stiff competition from other watchmakers. However, Rolex would persevere due to strong leadership.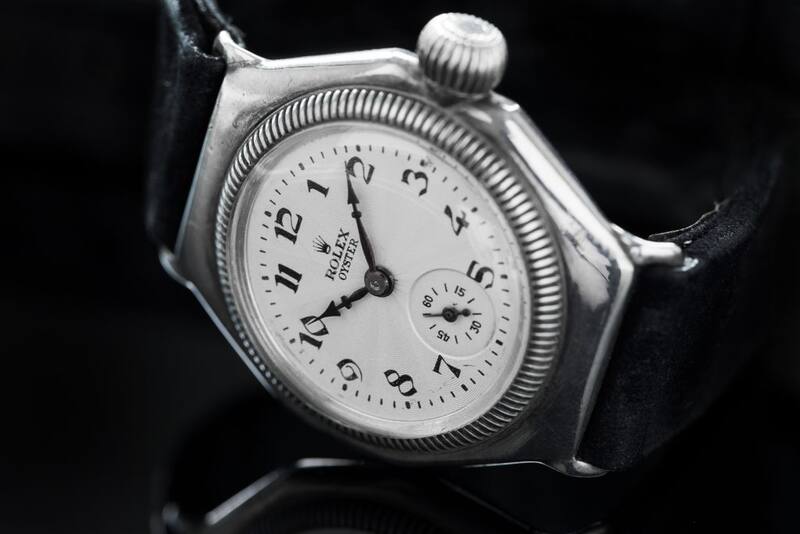 One of the key factors in Rolex's success was its commitment to innovation. In 1910, Rolex became the first watchmaker to receive the Swiss Certificate of Chronometric Precision, a distinction that was previously reserved for marine chronometers. This set the standard for accuracy in wristwatches and established Rolex as a leader in the industry.
In November 1915, the company changed its name to Rolex Watch Co. Ltd. In 1919, Hans Wilsdorf moved the company from England to Geneva, Switzerland, because of heavy post-war taxes levied on luxury imports and high export duties on the silver and gold used for the watch cases. In 1920 the company's name was officially changed to Montres Rolex SA and later to Rolex SA. (SA means Société Anonyme and is the equivalent of a share holders company with limited liability)
Rolex's commitment to quality and precision continued through the decades. In the 1920s, the company introduced the Oyster, the world's first waterproof wristwatch. In the 1950s, it developed the GMT-Master, a watch that could display two time zones simultaneously, which was designed for use by pilots. In the 1960s, Rolex introduced the Sea-Dweller, a watch that was water-resistant to a depth of 610 meters (2,000 feet), which was designed for use by professional divers.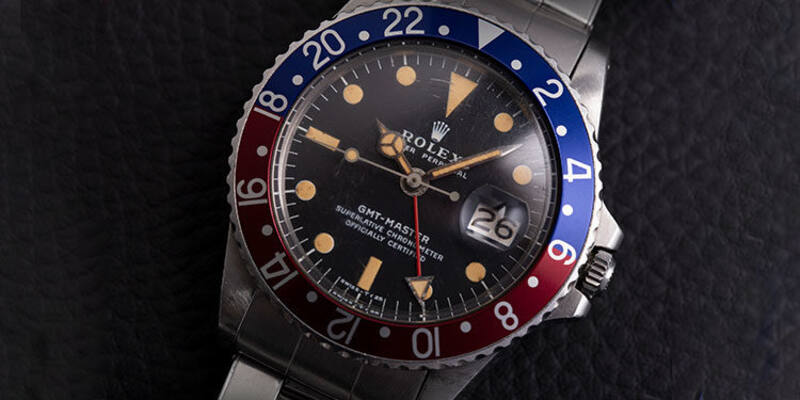 During World War II, Royal Air Force pilots bought Rolex watches to replace their inferior standard-issue watches; however, when captured and sent to prisoner of war (POW) camps, their watches were confiscated. When Hans Wilsdorf heard of this, he offered to replace all watches that had been confiscated and not require payment until the end of the war, if the officers would write to Rolex and explain the circumstances of their loss and where they were being held.
Wilsdorf was in personal charge of the scheme. As a result of this, an estimated 3,000 Rolex watches were ordered by British officers in the officer camp Oflag VII-B in Bavaria alone. This had the effect of raising the morale among the allied POWs because it indicated that Wilsdorf did not believe that the Axis powers would win the war. American servicemen heard about this when stationed in Europe during WWII and this helped open up the American market to Rolex after the war.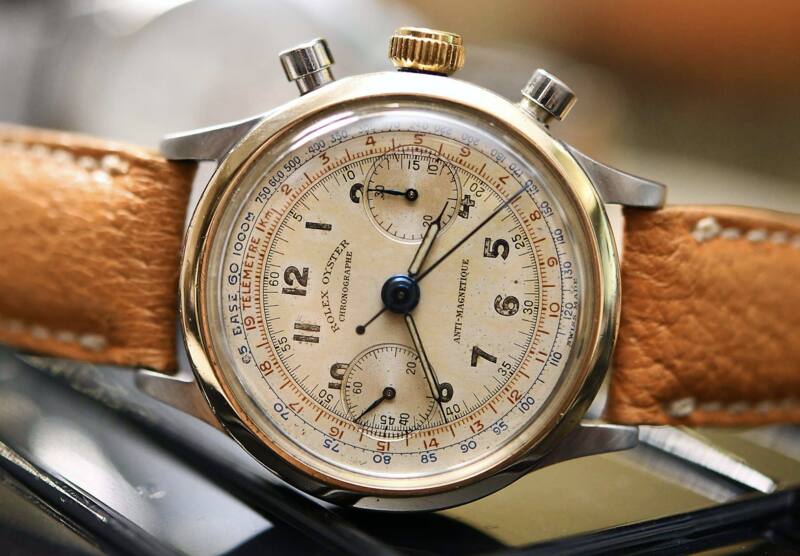 Rolex Oyster 3525 Chronograph from the 1940s
On 10 March 1943, while still a prisoner of war, Corporal Clive James Nutting, one of the organisers of the Great Escape, ordered a stainless steel Rolex Oyster 3525 Chronograph (valued at a current equivalent of £1,200) by mail directly from Hans Wilsdorf in Geneva, intending to pay for it with money he saved working as a shoemaker at the camp.
The watch (Rolex watch no. 185983) was delivered to Stalag Luft III on 10 July that year along with a note from Wilsdorf apologising for any delay in processing the order and explaining that an English gentleman such as Corporal Nutting "should not even think" about paying for the watch before the end of the war.
Wilsdorf is reported to have been impressed with Nutting because, although not an officer, he had ordered the expensive Rolex 3525 Oyster chronograph while most other prisoners ordered the much cheaper Rolex Speed King model which was popular because of its small size.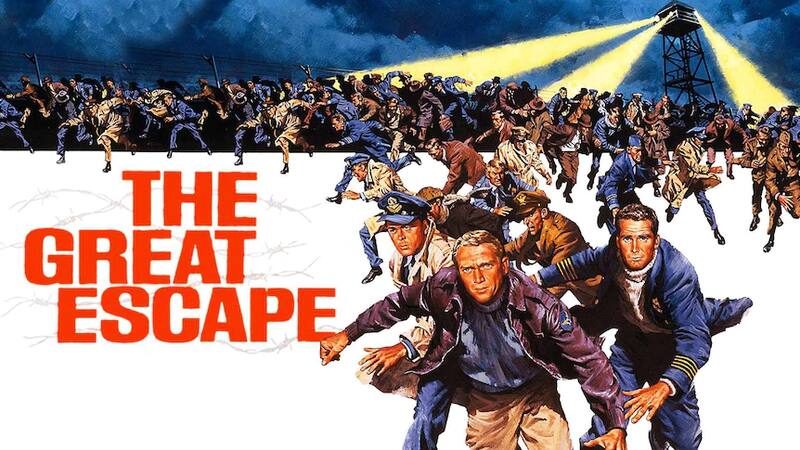 The watch is believed to have been ordered specifically to be used in the Great Escape when, as a chronograph, it could have been used to time patrols of prison guards or time the 76 ill-fated escapees through tunnel 'Harry' on 24 March 1944.
Eventually, after the war, Nutting was sent an invoice of only £15 for the watch, because of currency export controls in England at the time. The watch and associated correspondence between Wilsdorf and Nutting were sold at an auction for £66,000 in May 2007, while at an earlier auction in September 2006 the same watch fetched A$54,000.
Nutting served as a consultant for both the 1950 film The Wooden Horse and the 1963 film The Great Escape.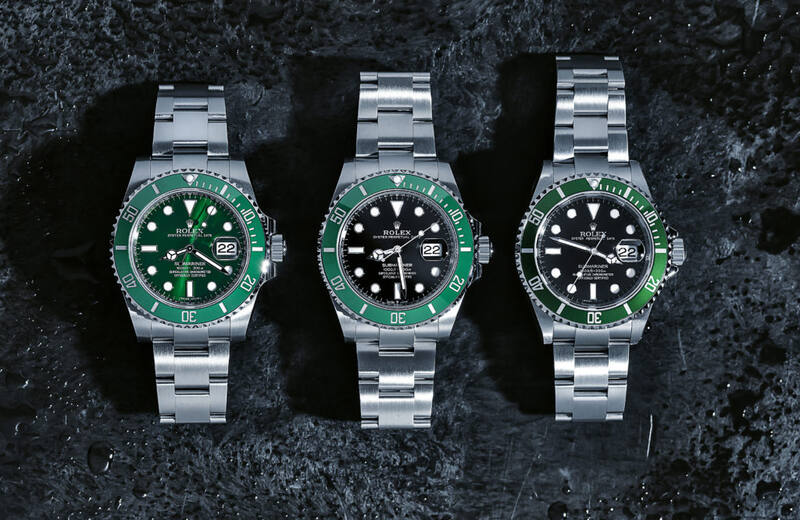 Rolex SA offers products under the Rolex and Tudor brands. Montres Tudor SA has designed, manufactured and marketed Tudor watches since the 6th of March 1946. Rolex founder Hans Wilsdorf created Tudor to create a product for authorized Rolex dealers to sell that offered the reliability and dependability of a Rolex, but at a lower price.
The number of Rolex watches was limited by the rate that they could produce in-house Rolex movements, thus Tudor watches were originally equipped with off-the-shelf movements while using similar quality cases and bracelets.
Today, Rolex is one of the most recognized and respected watch brands in the world. Its watches are sought after by collectors and enthusiasts, and are often associated with achievement, success, and the finer things in life. However, the story of Rolex is more than just a story of luxury watches. It is a story of innovation, perseverance, and a commitment to excellence that has spanned over a century.

zdravko@granturismo.org