Join us for the Ferrari 70th anniversary and a road trip to Tuscany in September
Published 2017-02-07 by Administrator
For this season we have announced a total of nine events. However, there is one more. Our most exclusive event of the year, limited to only 20 participating cars, that we have been kept secret until now. It is a journey to Tuscany, with great food, fine wine and some fantastic driving roads.
The road trip starts in Maranello - with the 70th anniversary celebration of Ferrari.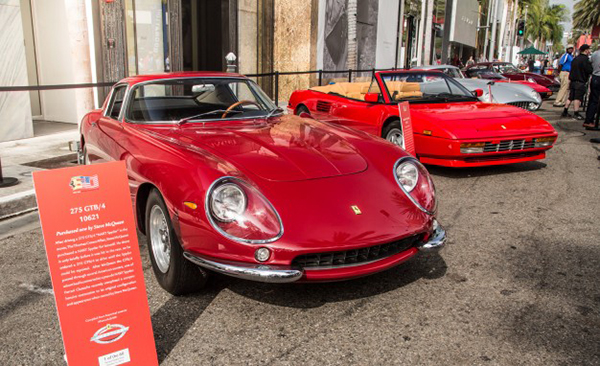 Ferrari 70th anniversary in Maranello


For all fans of Italian super cars, 2017 is a very special year. Ferrari is celebrating their 70th anniversary, with a massive partin Maranello for thousands of employees, owners and fans. We have made arrangements to join the anniversary in Maranello.
Furthermore, we have been able to secure a reservation in the famous Montana restaurant for dinner. All the high level officials from Ferrari, formula one drivers and such, frequent this iconic restaurant. Prepare to see some famous faces here this evening.
After this very special day we will go on a road trip to beautiful Tuscany for a week of great driving roads, fine dining and what many say is the best wine in the world.
9 September / Saturday / Maranello and Ferrari
Welcome to Maranello, home of the strongest brand of super car makers in the world - Ferrari. Albeit Ferrari has not released a detailed schedule for the festivities, we are happy to be right in the middle of all the fun. Visits to the museum, parades of new and historic cars and lots of celebrities in town.
We check-in to the hotel starting from 12 o clock. Then we join the Ferrari anniversary celebration in the centre of the town. In the evening, we have dinner in Ristorante Montana.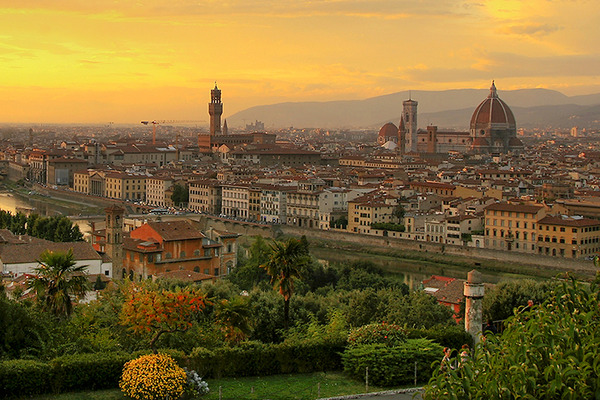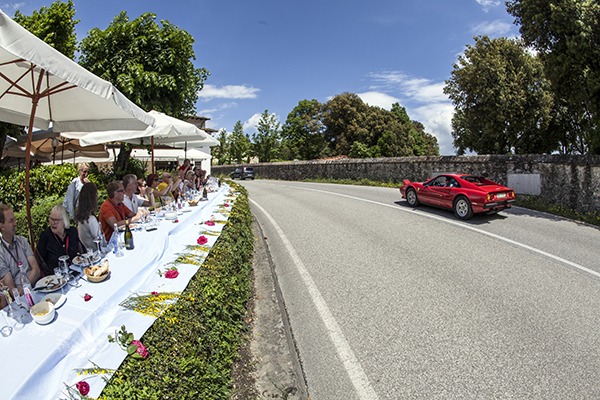 10 September / Sunday  / Passo della Futa and Florence
The following day we start our road trip. After breakfast we drive to Imola and then south on Passo della Futa. This mountain pass is the most challenging stage during the yearly Mille Miglia rally. We stop for lunch in Barberino di Mugello.
Later, we arrive to Tuscany and one of the most beautiful cities in the world - Florence. Florence is the cultural capital of Europe, and probably the world, too. In fact, the total value of all art in Florence greatly surpasses any other European city. Even Paris.
Florence was the birthplace of the renaissance. Wealthy families like the Medici sponsored young and up-coming local hipsters like Michelangelo, Leonardo da Vinci and Dante. Their mind-blowing stuff is still right here, in places like the Uffizi museum. Oh, and lets not forget all the architecture - buildings like the domed cathedral, Palazzo Vecchio and of course Ponte Vecchio (which now has the most expensive ice cream in the world).
Today we check-in to Hotel Savoy, a classic five star luxury hotel right smack in the middle of the city. Following aperitivo on the terrace facing the square, we take a short walk to Ponte Vecchio and the restaurant Lungarno for dinner. Tonight we have the local speciality Fiorentina steak.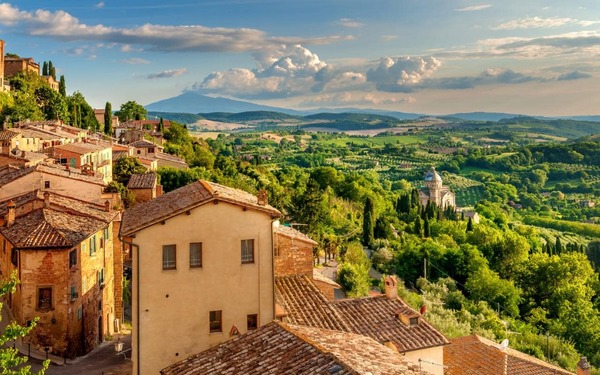 11 September / Monday - Chianti 
Today we go to Chianti. But first, we make a stop at Piazzale Michelangelo in Florence. Here we enjoy the spectacular view over the city and take a group picture of you and all the cars.
Then, the driving continues south. On the winding Via Cassia, which connects Florence with Chianti. We stop for lunch in the city of Figline Valdarno, where we park our cars on the city square, right next to the restaurant.
Directly after lunch we make our first winery visit, in Castello di Ama. Here we try Al Poggio 2015 IGT Toscana, Ama 2015 Chianti Classico DOCG, Castello di Ama San Lorenzo 2013 Chianti, Classico Gran Selezione DOCG and L'Apparita 2013 IGT TOSCANA. By stopping here, we can enjoy a great spectrum of some of the best wines from the Chianti region.
After the visit, we go to castle Borgo Scopeto Relais, our home for the next two days, while we explore Chianti. Borgo Scopeto is just north of Sine. Aperitivo by the castle pool starting from 19. Dinner on the terrace at 20. The theme for tonight is truffles. We hope you like truffles. Because, there is going to be a lot of them, both black and white, this night.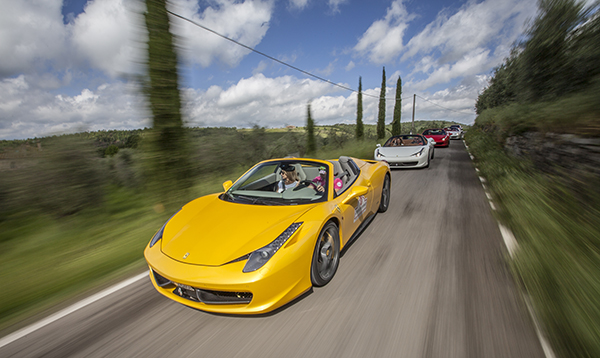 12 September / Tuesday - More Chianti
There is a lot of things to see in Chianti. There is also a lot to eat and drink, and many country roads to conquer. If you like driving, you are going to love the roads in the Chianti region. These roads were made for super cars. The views are simply spectacular, too.
This second day here we head to Volterra, a city with history that dates back to the ages of the Etruscan. Way before the romans.
Volterra is also known for its nightmarish mental hospital, that was closed down over fifty years ago. There are rumours about vampires roaming the city at night. But, that's not why we go here. We stop for one of the best restaurants in the region, which is going to prepare lunch consisting of locally made specialities, with wine from local internationally renown wineries. They also make great olive oil here.

On our way back from Volterra we visit another historical city, San Gimignano, where we stop for coffee, and an exclusive tasting of their famous Vernaccia di san Gimignano wine.

We return to Borgo Scopeto for the night. Aperitivo by the pool from 19, and then dinner at 20. The theme for tonight is not truffles.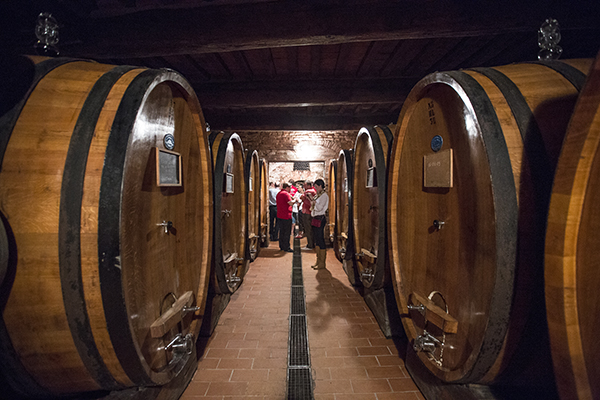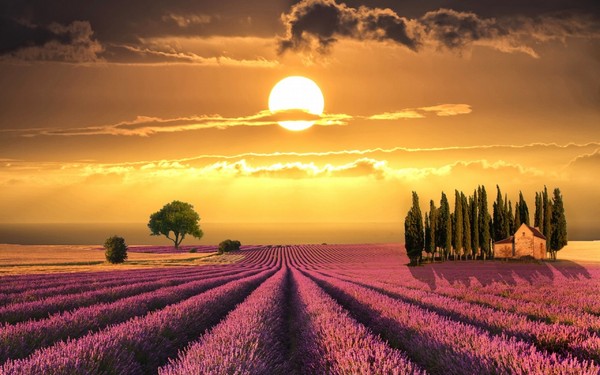 13 September / Wednesday - Montalcino
Time to continue south. We check-out from the hotel and drive to Montalcino - a favourite wine district for many of us. Our first leg will be on a somewhat faster main road. The last part of driving to Montalcino is a bliss. A lot of turns, and a mild up hill ascent. The sound of our cars will echo in the valley below.

Situated on a hill top in southern Tuscany, it is the home for the DOCG designation Brunello di Montalcino. Its strategic location between Rome and Siena also meant that is was home to some of the most violent and desperate battles in the medieval times.
After scaling the walls and fighting for our lives, we park our cars in the main square for lunch. The lunch will be prepared in Ristorante San Giorgo, where we also will have the opportunity to try many different wines and food from the immediate vicinity, like Rosso di Montalcino and Brunello di Montalcino, Barolo and Amarone.
They make really good cheese and sausages here, too. We strongly recommend the local pecorino cheese and the porchetta ham.
Our journey continues to the peninsula Argentario in the very south of Tuscany, on the border to Umbria. There we check-in to one of the finest hotels in Italy - Il Pellicano. This hotel is on the same level as Villa d'Este, Badrutt's palace or Byblos. It has a sea view and a beach that very few other hotels can even come close to. When you arrive, you will understand. Dinner, as always, at 20:00. But first, we invite you for aperitivo by the pool at 19.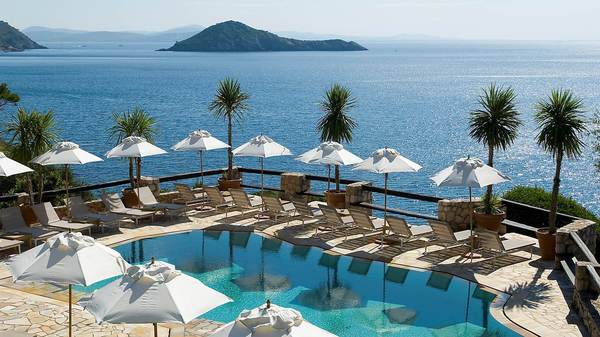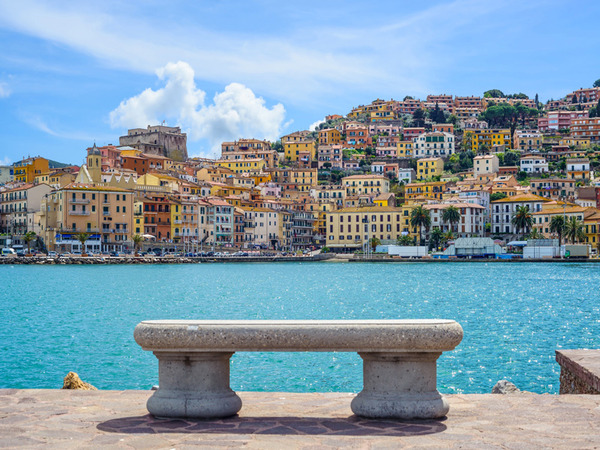 14 September / Thursday - Argentario

This day we spend on the Argentario peninsula. Not a bad place to be a day in September. Beautiful landscape, the sea and some fantastic winding roads. Join us for a drive around the peninsula, visiting the coastal towns Porto Ercole with a stop for lunch in Porto Santo Stefano.

We have reserved parking for us in the harbour area, and we will have lunch in the locally acclaimed Osteria la Pace. After lunch we continue the lap around the peninsula. Prepare for some really fun and dynamic driving here, with the mediterranean sea always in sight.

Back in the hotel we have a few hours of unscheduled time. With the hot September weather, why not spend it by the pool or on the beach? As always, aperitivo at 19 and dinner on the terrace facing the sea at 20.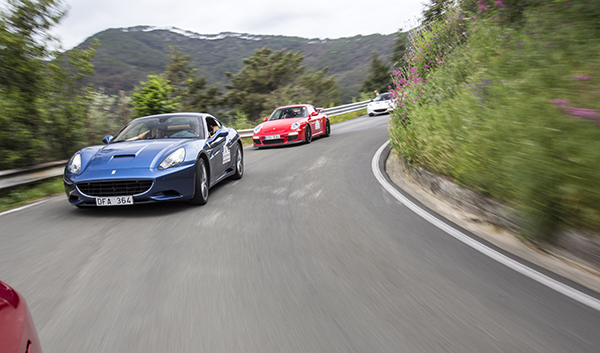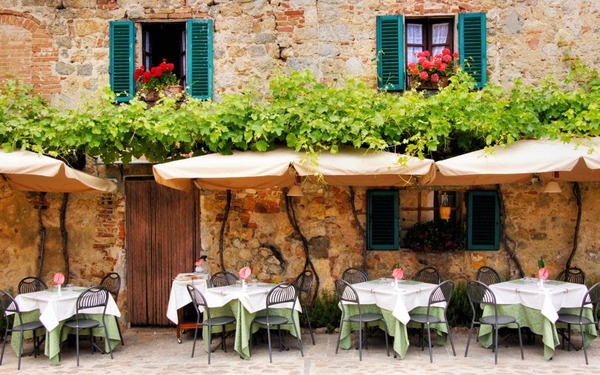 15 September / Friday - Bolgheri and Viareggio

After two nights in Il Pellicano it is time to pack our bags, and check out from this fantastic hotel. Today we head north, driving the exciting coastal road towards Livorno and Viareggio. But first, it is time to stop for lunch and our last wine tasting this trip. It is time for Bolgheri. Of all wine districts in Tuscany, Bolgheri is our personal favourite. Here we will try Vermentino di Bolgheri - Sassicaia while having lunch in a restaurant in the city square.

After Bolgheri, we continue north towards Viareggio and stop in Pisa. We have made arrangements for us to park our cars close to the leaning tower with police escort(!) It will be a wonderful Kodak moment.

Viareggio is a classic summer destination, and September is still high season. There is going to be a lot of people in town. Be prepared for insane amounts of attention when you arrive to the hotel. We stay at Grand Hotel Principe di Piemonte, where we also have dinner in the restaurant terrace facing our super car parking lot on the square.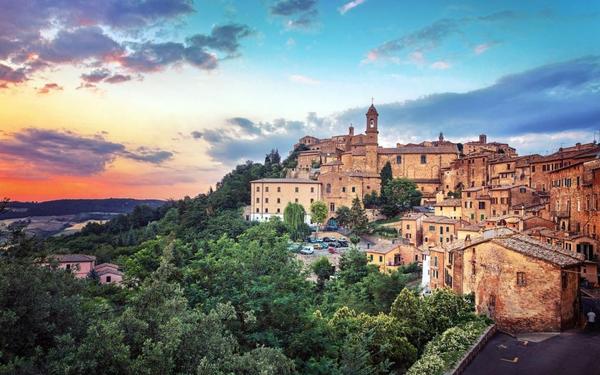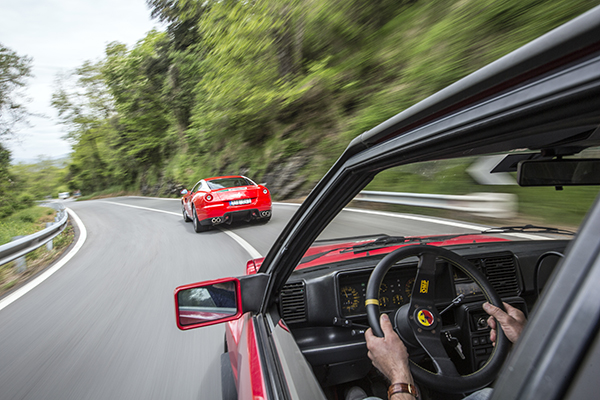 16 September / Saturday - Viareggio
This last day we spend in Viareggio. Chose between spending the day in town or on the beach, or join the organisers for a driving tour of the region with a visit to Azimut shipyard.

Join us for a drink on the roof top of the hotel at 19. Then we will have dinner in ristorante il Principo on the beach at 20. Later the same night we have reserved the VIP section in the famous night club Twiga, about ten minutes by taxi from the hotel. A great way to end the event.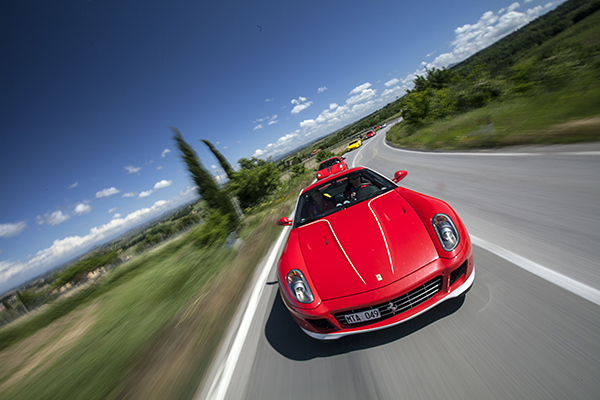 Join us for the Ferrari 70th anniversary and Gran Turismo Toscana 2017
This event is 7400 EUR (+ VAT in some countries) and includes eight nights in luxury hotels (a mix of four and five star), eight gourmet dinners with some fine wine indeed, six lunches, wine tastings at some of the best wineries in the world, road books, maps, special events along the road, and an unforgettable week with your friends and your super car in Tuscany with all its culture, atmosphere and luxury.

The price is for two people sharing one hotel room and car. For practical reasons we can only be 20 cars joining. This makes this event the most exclusive we have created, ever. (Also, please note - you don't need a Ferrari to join this event)
>> To register, send an e-mail to peter@granturismo.org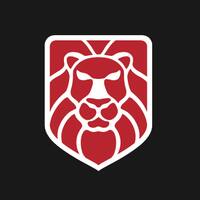 admin@granturismoevents.com