Join us for the american dream - Gran Turismo California
The american muscle car. It all started in the 1960's. The space race was on. Juri Gagarin was the first man in orbit. The united states was set to put a man to the moon. This was the golden era for the american automotive industry.
Take a coupe with a beautiful silhouette. Add an enormous engine with insane amounts of power. Fantastic acceleration, which would leave everyone else behind. The unmistakeable sound of a howling V8. Complete disregard for secondary items like fuel consumption. Both skill and guts were required to go fast. They were cars that separated the men from the boys. These were the features that made icons of the Ford Mustang or the Dodge Charger.
These cars demanded the full attention from the driver. But, few other cars were so much fun to drive. Especially on an open desert road with a big trail of dust behind. This is something that we all want to experience at least once in our life.
The road trip of your life - muscle car included
We have managed to secure 30 Ford Mustangs from all over California. They will be delivered to Los Angeles on March the 26th. It is now your turn to experience the american dream. We are organising the road trip of your life - an epic drive from Los Angeles to San Francisco, Napa Valley, Reno, Las Vegas and back. 2200 kilometers of beautiful roads like the Pacific Coast highway, and insane experiences like Las Vegas. Muscle car included. All you need to do is to be in Los Angeles by the end of March.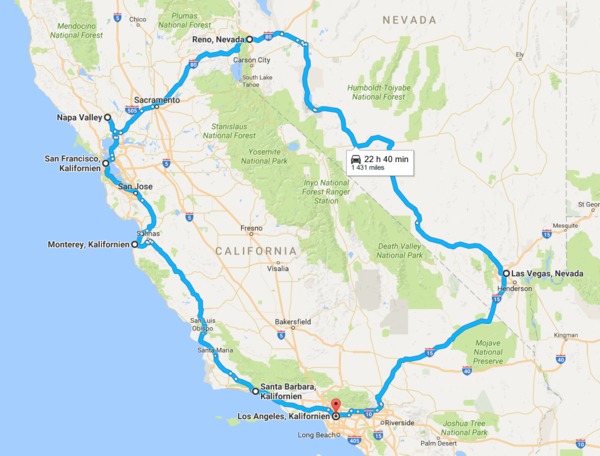 Event schedule and route
The event starts in Los Angeles on the 26th of March, with check-in, briefing and dinner in the Roosevelt hotel in Hollywood. The road trip starts the morning after, and lasts a full nine days before you are back in Los Angeles again. Nine days of driving on some of the best roads California has to offer. Ten evenings of fun with your friends in places like Los Angeles, San Francisco and Las Vegas. And - at least 25 serious items to check off your life's bucket list.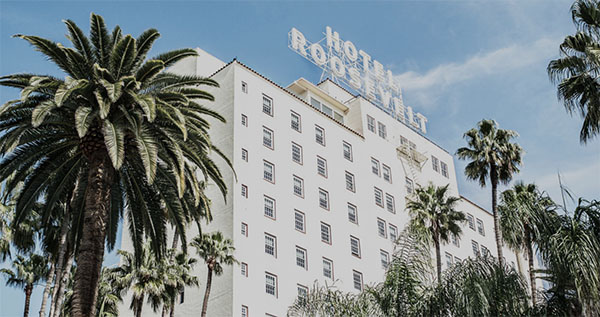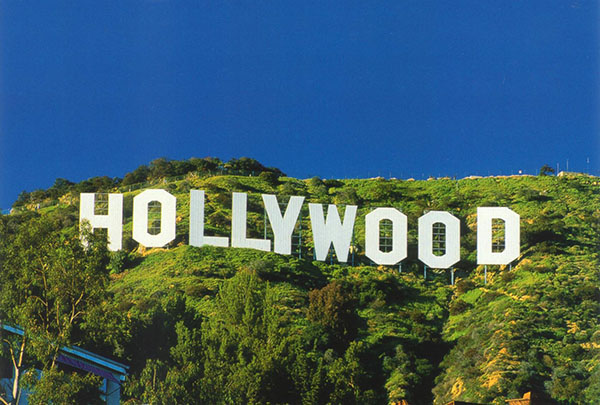 26 March / Sunday - Los Angeles
Welcome to California and Los Angeles. This first day we check-in to The Hollywood Roosevelt hotel, where we later have dinner and the drivers briefing. Your ford Mustang is delivered to the hotel on this day.
Bucket list items: United States, California, Los Angeles, Hollywood, Hollywood walk of fame, The Hollywood Roosevelt hotel, American muscle car.
27 March / Monday - Drive from Los Angeles to Santa Barbara (102 miles)
After breakfast in the hotel we all drive to the Griffith Observatory, which is famous from many movies, such as Rebel without a cause with James Dean, The Rocketeer, Transformers and The Usual Suspects. Here we take a short tour of the observatory and enjoy the view over Los Angeles.
The driving continues with a visit to Six Flags amusement park, where we all try at least one roller coaster and have lunch. (We strongly suggest to do the roller coaster ride before lunch, not after)
Then we head southwest, towards the coast and Santa Barbara where we stay the night. Dinner tonight will be on the extremely popular Santa Barbara pier.
Bucket list items: Griffith Observatory, Transformers, James Dean, The rocketeer, Six Flags amusement park, insane rollercoaster ride, The snake (road), Santa Barbara, Santa Barbara pier.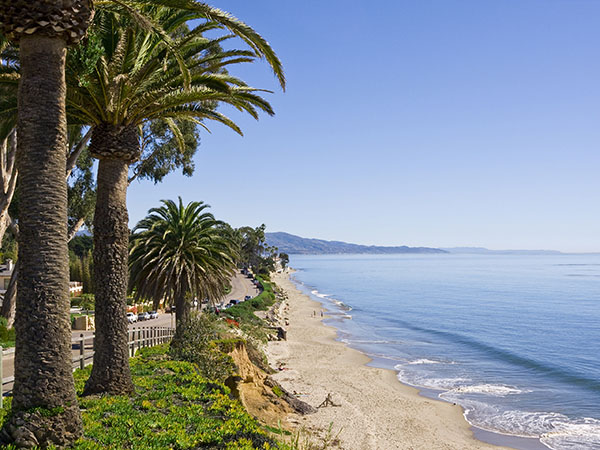 28 March / Tuesday - Drive from Santa Barbara to Monterey (229 miles)
Today is all about Pacific Coast Highway, or PCH. The number one scenic route in the United States. Known from movies like Basic Instinct, Iron Man, Fast & Furious and Sideways. PCH is the number one filming location for any car chase in Hollywood.
We continue north from Santa Barbara on the PCH towards Gorda, Big Sur and finally Monterey, where we stay the night. Tonight we will have dinner in a restaurant with a great view of the Monterey harbour and the sea.
Bucket list items: Pacific Coast Highway, Basic Instinct, Iron Man, Fast & Furious, Sideways, Gorda, Big Sur, Hearst Castle, Monterey.
29 March / Wednesday - Drive from Monterey to San Francisco (123 miles)
No big rush today, since the total driving distance is only 123 miles. Plenty of time to continue to enjoy the pacific coast highway towards San Francisco.
When we arrive in San Francisco later this day, we stay in Hyatt in Fisherman's Wharf. Dinner? Seafood in the harbour, of course. Fisherman's wharf in San Francisco probably has the best seafood on the planet.
Bucket list items: Salinas, San Jose, Santa Cruz, San Francisco, seafood in Fishermans wharf.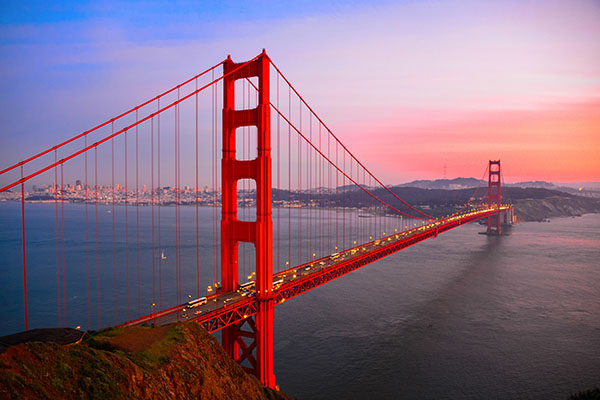 30 March / Thursday - San Francisco to Napa Valley (100 miles)
The Golden Gate. One of the most important landmarks in the world. Today it is our turn to cross this famous bridge. Then we drive towards Napa Valley for one or two visits to local wineries, and then to stop for the night in a hotel in the heart of the region. This night we will enjoy dinner with a wine tasting of local wines in one of the fine dining restaurants with french inspired cuisine.
Bucket list items: Golden gate bridge, Napa valley, Domain Chandon (wine producer), Yountville.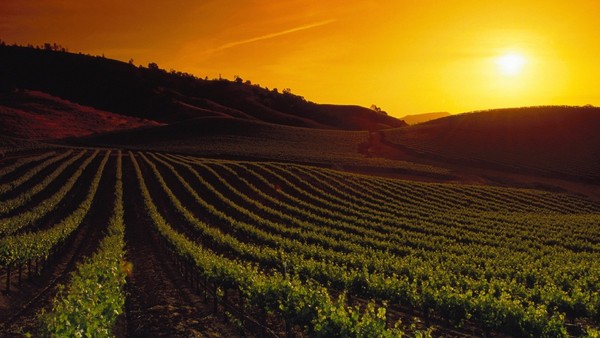 31 March / Friday - Drive from Napa Valley to Reno (200 miles)
Time to say good bye to California and head east towards Nevada. Our next stop will be in Reno, famous for its annual air race and multiple casinos. The road to Reno will takes us through Sacramento, where we stay for lunch.
Reno is, like Las Vegas, famous for its casinos, albeit much smaller in size. We stay the night in a large hotel in the city centre, and have dinner and a Friday night party close to the nightlife and all the fun.
Bucket list items: Nevada, Sacramento, Reno.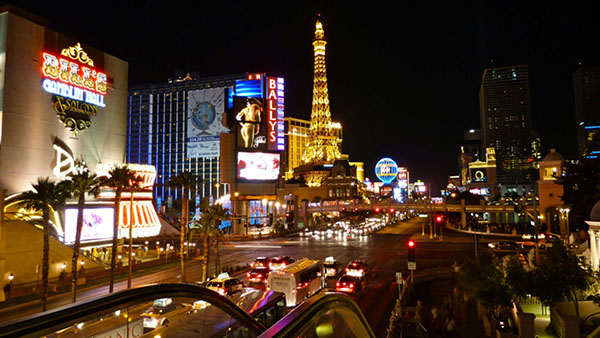 1 April / Saturday - Drive from Reno to Las Vegas (450 miles)
A day all about driving. Being the longest driving day, about 450 miles, this day will be spent on the road. We will follow the US 95 southeast from Reno all the way to Las Vegas. In Las Vegas we check in to one of the famous mega hotels on the strip (The Venetian) and have dinner in a restaurant on the strip.
An insane amount of movies have been shot here, my personal favourites being Fear and Loathing in Las Vegas, Ocean's Eleven and Hangover.
Saturday night in Las Vegas with your new best friends? What can go wrong? God help us.
Bucket list items: Desert road, Las Vegas, The Venetian, Fear and Loathing in Las Vegas, Ocean's Eleven, Hangover.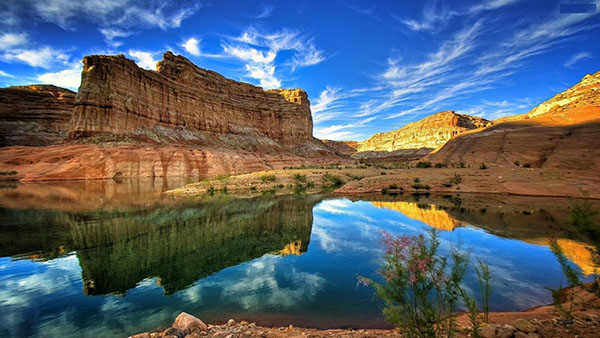 2 April / Sunday - Hoover dam and Grand Canyon and then back to Las Vegas (250 miles)
If you have survived the Saturday night, then it is time to rise and shine for a new day on our glorious road trip. Today we have two major bucket list items for any trip to the United States - Hoover Dam and Grand Canyon.
Both are about 120 miles from Las Vegas and are easily reachable by car. We will have lunch close to Grand Canyon, and then return back to Las Vegas for a second night in the most decadent city in the world.
Bucket list items: Breakfast in Las Vegas, Hoover Dam, Grand Canyon.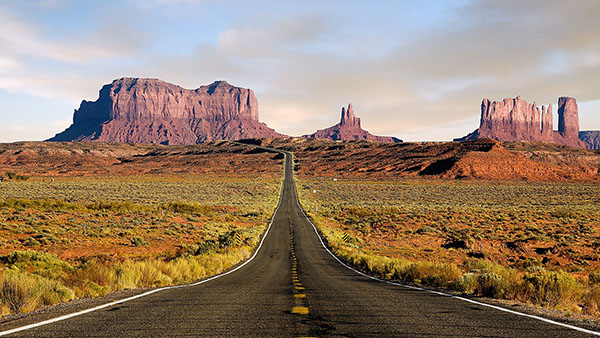 3 April / Monday - Drive from Las Vegas back to Los Angeles (324 miles)
This is it. Our final day on the road. But, a very fine day it will be. After a good nights sleep in Las Vegas, we head west through the Mojave desert towards Los Angeles.
Back in Los Angeles later this day, we check in back to Hollywood Roosevelt. It is time to unpack your car and relax a few hours in your room. This night we have a very special surprise for you. You are not going to believe where we are going to have the events closing dinner.
Bucket list items: Mojave desert, Aircraft Boneyard, Secret Los Angeles restaurant place.
4 April / Tuesday - Check out from hotel
KTHXBYE and thank you very much for joining us on this trip.