The idea was epic. As crazy as always. Just like Gran Turismo Polonia was back in 2005. But, on a different continent - Asia. Let's start from the beginning.
Let's rewind the tape a bit. Back to 2009. When we bought 28 identical Fiat 126p. Yes, the little Polish Fiat. We organised a race. A cannonball style mad dash through Europe with 28 identical small cars. Watch the movie from our Fiat-event here.
We flew 28 teams down to Poznan in Poland. Each team got their own car. The day after, the crazy stuff begun. We started together, Le Mans style from Poland. Whoever got first to Stockholm, Sweden, would win. About 1 500 km away. In a car with a top speed of exactly 106 km/h.
We had a lot of laughs. And everybody got a story to tell, that their grandchildren would find hard to believe. Everyone got to keep their Fiat 126p when they arrived.
Now, we had a new and very similar idea - Gran Turismo Bangkok. The idea was to ship 30 super cars from Sweden with a shipping company. From Gothenburg to Singapore. Then we would arrange the road trip of the century. Starting in Singapore, through Malaysia, through Thailand and end in Bangkok. With some serious cars.
The trip would take 12 days, including stops at places like Had Yai, Phuket, Khao Lak and Surat Thani. Everything looked very promising. Back home in Sweden we contacted the embassies of Singapore, Malaysia and Thailand.
All embassy officials were very surprised when we explained what we wanted to do. There would, of course, be a lot of paper work to get 30 Swedish Ferraris, Lamborghinis and Porsches across the borders. Things like customs, insurance and so on. It was difficult, but in principle very possible. It all looked pretty good. We were very excited, indeed!
Then, as a final check that our plan was good, we contacted Porsche Club Singapore. Let's get a second opinion on our plan. Maybe they hade some good advice. We sent them an e-mail outlining our plan, hoping for a positive and enthusiastic response. The answer we got, was not at all what we expected.
This was their answer:
"We strongly discourage you from going through with this idea. We have tried a similar idea a few years back. Although it started well, it all went straight to hell as soon as we crossed the border to Malaysia. Let us explain what happened:"
The quality of the roads in southern Thailand up to Surat Thani is very poor. 25% of the cars had punctured tires and serious rim damages. Now, imagine trying to find a spare rear tire for a Lamborghini Murcielago in the middle of the jungle.
We brought three Porsche Cayennes, stuffed with spare parts and an army of mechanics. This was not enough. We should have brought more assistance. Perhaps even a helicopter.

All participating cars suffered from windshield damage. Most of them we could repair with duct tape. But, one windshield was so destroyed that we had to remove it all together. The driver and co-driver had to continue their journey wearing helmets.
The biggest problem was all the stray dogs and monkeys running across the road. The stray dogs and monkeys did not obey traffic laws. Instead, they behaved in the most suicidal ways possible. They got our drivers in accidents - frequently. We had to remove several pieces of monkey from the radiators of our cars.
The worst problem was with a Porsche Turbo. It had three(!) monkeys in the radiator and one in the engine compartment. There were pieces of monkey everywhere. A lot of blood, bones and fur. We spent half a day cleaning the car from all pieces of monkey. Extremely gross. The poor man who opened the hood vomited when he saw all the monkey parts around the engine. The smell of burned flesh that was attached to the manifold and the turbos was unbearable. It was very disgusting.
We strongly discourage you from going through with this event. It might seem like a good idea in theory, but in reality it is horrible. Out of 33 cars starting in Singapore, only 7 made it to Bangkok. The rest had to be picked up by trailer and sent back to Singapore. One very unfortunate Ferrari 430 is still somewhere in the jungle. Abandoned by a very angry driver who just could not take it anymore.
The e-mail ended with: "Why don't you arrange a road trip in Europe instead? The roads are much better. There is no problem with spare parts. Most of all - there is no problem with lunatic monkeys on the roads getting run over and sucked in to the engine bays. We, Singaporeans, can just dream about the perfect conditions you have for car driving and roads trips in Europe. Why don't you do a road trip at home instead?"
A very relevant question. And some very useful advise, indeed. We would like to thank Porsche Club Singapore for this. It helped us avoid one of the most epic disasters in motor event organisation - ever.
Thank you. Maybe we should stick to Europe for now.

Complete 2018 Calendar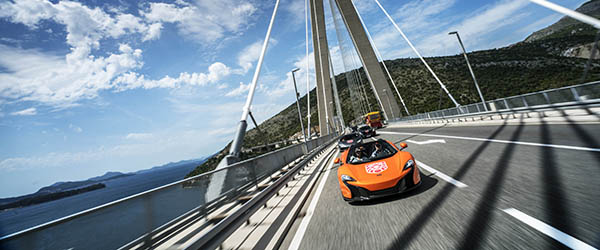 Gran Turismo Adriatica (5 - 13 May)
We start the season on the Adriatic coast, with a road trip from Croatia all the way to Greece. We start in Opatija and drive south through Croatia, Bosnia, Montenegro and Albania before we finish with a weekend in Thessaloniki in Greece.
>> http://www.granturismoevents.com/gran-turismo-adriatica-2018/
Gran Turismo Nurburgring (27- 30 May)
The most challenging racing track in world. 21 kilometers of fun. As always, we have two exclusive days on the track and three nights in Nurburg. This event is limited to 144 cars.

>> http://www.granturismoevents.com/gran-turismo-nurburgring-2018/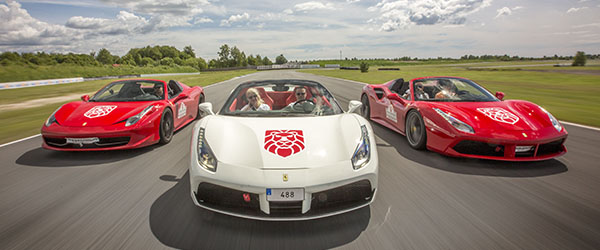 Gran Turismo Polonia (27 June - 1 July)
Gran Turismo Polonia. As always we have three days on track, and four nights of fun in Poznan. For the 2018 edition we are limiting the number of places to 144 cars.
>> http://www.granturismoevents.com/gran-turismo-polonia-2018/
Gran Turismo Baltica (24 - 29 July)
After six(!) years in Pärnu it is time to try something new. For the 2018 edition of this event we go to Riga and Bikernieku racing track. The track is only 7 km from the city centre, and we stay in the number one hotel in town - Radisson Blu. Three days of driving on the track. The last day (Saturday) we close down four streets in the city for a street show. While Riga has almost the same population as Stockholm you can be sure that we will have a lot of attention.
>> http://www.granturismoevents.com/gran-turismo-baltica-2018/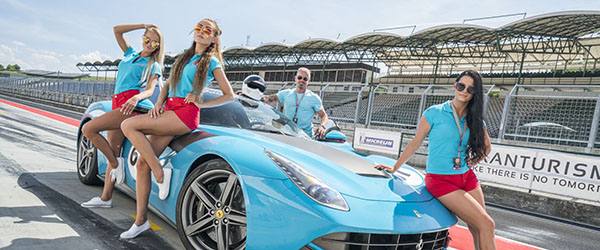 Gran Turismo Hungaria (14 - 19 August)
Hungaroring and Budapest are awesome. In 2018 we are coming back. This time we will have three days on track - Wednesday, Thursday and Friday. The last day, Saturday, we organise a super car road trip through Budapest to Lake Balaton for lunch (and back).

Just like in 2017 we will be staying at a hotel on the Danube, walking distance to all the great night life of Budapest. The days we will spend on the F1 race track hungaroring, and the nights will be in town. Every evening we will have a dinner reservation at new and exciting place.
>> http://www.granturismoevents.com/gran-turismo-hungaria-2018/
Gran Turismo Europa (25 August - 2 September)
While in 2017 we tried something completely different, in 2018 we are back with the classic Europa road trip. For the 2018 Europa tour we return to Switzerland and the most beautiful mountain passes in the world. Say hello (again) to Stelvio pass, Grimsel- and Furka pass. Fully booked.

>> http://www.granturismoevents.com/gran-turismo-europa-2018/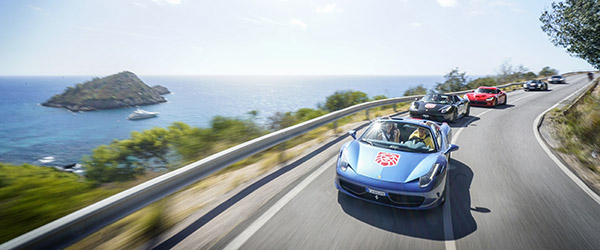 Gran Turismo Italia (8-16 September)
Following our Tuscany event in 2017, we are organising a new event in Italy in 2018. Next year we intend to explore the beautiful southern part of Italy. Start is in the Vatican(!) on the 8th of September. Then we drive south towards the Amalfi coast and Positano, Calabria and Puglia. Fully booked.

>> http://www.granturismoevents.com/gran-turismo-italia-2018/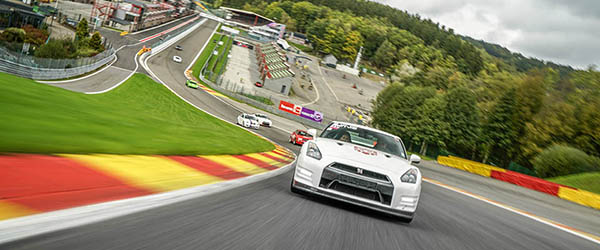 Gran Turismo Spa (25-28 September)
For many, Spa-Francorchamps is the best racing track in the world. It has become a tradition to finish our seasons on here. As always we will have two full days of driving on the track, and three nights in Hotel de la source, located just by the track.