Gran Turismo Europa 2019
For the 2019 Europa tour we return to the Alps and the most beautiful driving roads in the world.
The event starts in Austria - with check-in to Interalpen Tyrol in Seefeld/Innsbruck. The following week we drive in the alps for three days - on both new mountain passes, and roads we have driven before - like Grimsel- Furka and Susten pass. Later, we continue to Italy where we stay two nights in beautiful Bellagio by lake Como. After two days of relaxation by the lake, we head south towards cote d'azur, Monaco and then Saint-Tropez.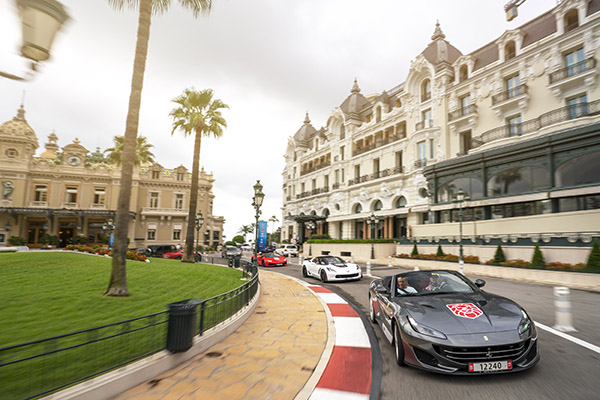 For our 2019 edition we are not going to Davos. Instead, we stay in Pontresina/St Moritz in Kronenhof Pontresina. We are also introducing the completely new and very hyped up hotel The Chedi Andermatt. At Como lake we stay in Villa Serbelloni in Bellagio. In Monaco we return to Hotel de Paris, which will be just opened after three years of renovation. In Saint-Tropez, we spend the weekend in Byblos Saint-Tropez. All hotels en route are five star.
Event schedule
Each day will be roughly 4 hours of driving. Sometimes less, sometimes a bit more. Besides driving we will do stops for special activities and events along the road, like vista points, photo opportunities and such. The time schedule for each day is: breakfast at 9.00, start driving at 10.00, lunch en route, arrival to hotel during the afternoon and dinner at 20.00.
Please note that on the 5th of September we leave one hour earlier - already at 9:00.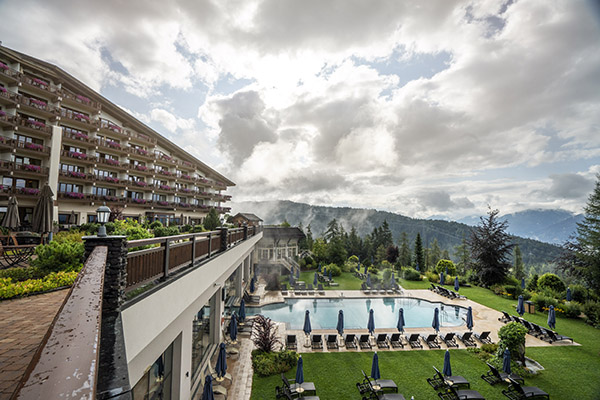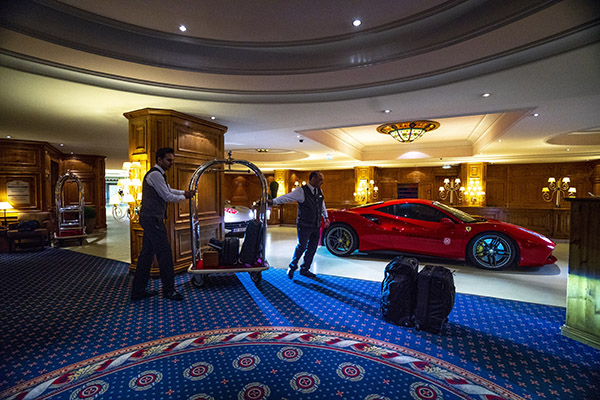 Saturday 31 August - Arrival - Seefeld (Austria)
Welcome to Austria and Hotel Interalpen in Tyrol. The Hotel is situated on a hill side in the vicinity of Innsbruck. Arrive in the early afternoon and enjoy the beautiful view of the valley below from the hotel pool. We will have dinner and a drivers briefing in the hotel at about 20:00.
14:00 - Check-in opens
19:30 - Prosecco in the bar
20:00 - Dinner and briefing in the Mountain Hut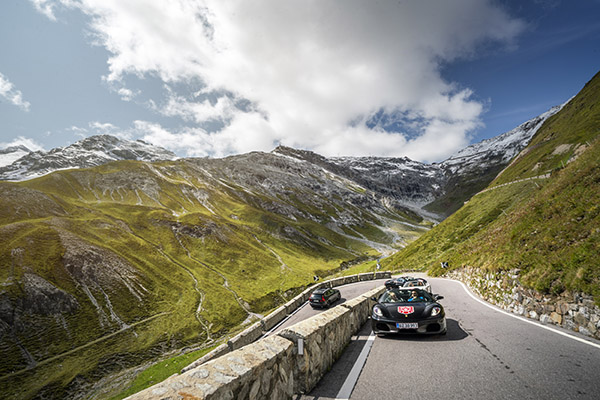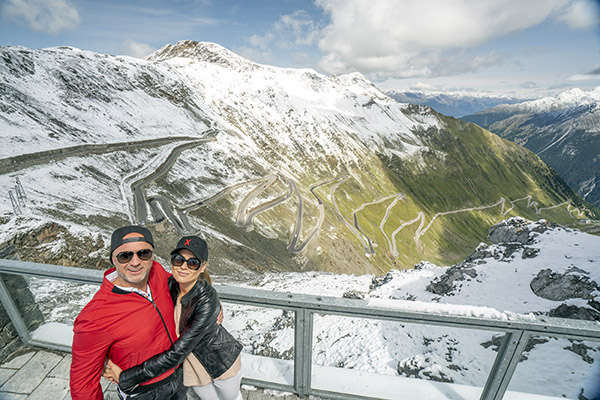 Sunday 1 September - Seefeld to Pontresina
Today we start the driving. A great driving day it is. We start by driving south to visit Stelvio pass. There, we stop for lunch in the restaurant on the peak - Albergo Ristorante Tibet. After lunch we continue on Umbrail pass towards Switzerland, Val Mustair and Pontresina, where we stay the night in Kronenhof.
10.00 - Leaving Hotel
11:30 - Stelvio pass
12.00 - Lunch on Stelvio peak
13.00 - Umbrail pass, Val Mustair
17.00 - Arrival to Pontresina and Kronenhof *****
20.00 - Dinner in the hotel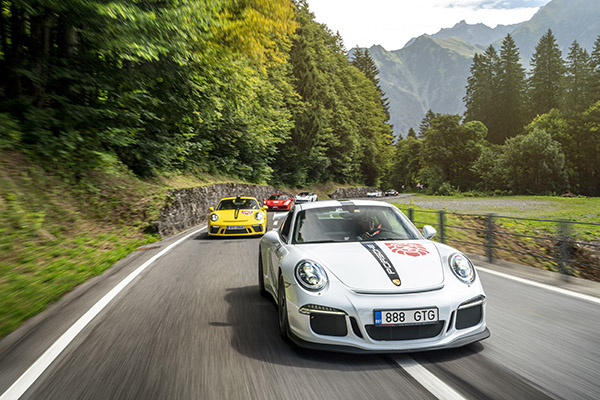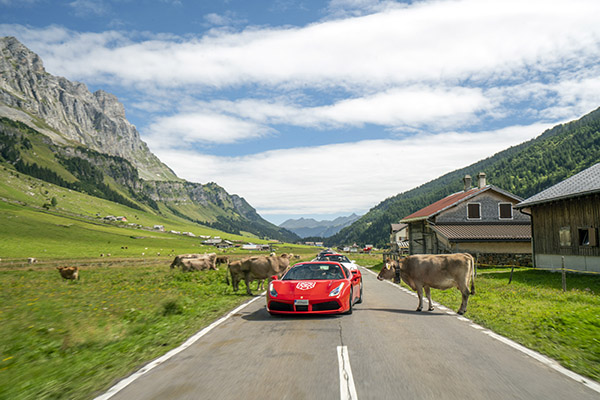 Monday 2 September - Pontresina to Andermatt
Our journey continues. Today we drive completely new and unexplored roads and mountain passes. From Pontresina to St Moritz, and then on a series of classic mountain roads to Andermatt. We stop for lunch in the village of Flims.
In the late afternoon we arrive to our hotel - The Chedi Andermatt - where we also enjoy dinner in their highly acclaimed and famous restaurant.
10.00 - Leaving Hotel
11:30 - Splugenpass
13.00 - Lunch in Bodenhaus Splugen
14:00 - Driving continues
15:00 - Coffee break in Waldhaus Flims
17:00 - Arrival to Andermatt and The Chedi Andermatt *****
20.00 - Dinner in the hotel restaurant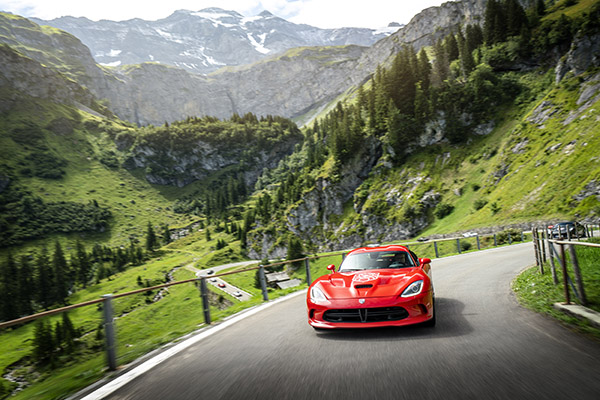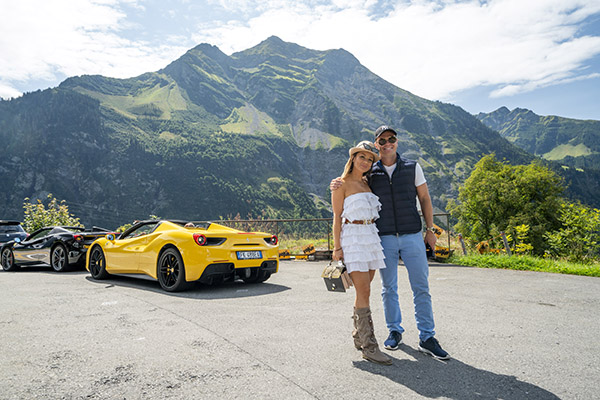 Tuesday 3 September - Mountain passes and Bellagio
The best driving day, ever. From Andermatt we drive the insanely great Susten pass towards the village of Innertkirchen. Then, we take a left and continue on Grimsel- and Furka pass back to Andermatt. These three roads together are nirvana for all fanatics of active driving. It does not get any better than this.
Coming back to Andermatt, we have lunch in The Chedi, before we continue down Gotthard pass towards the valley of Airolo, Chiasso and then in to Italy and Bellagio on lake Como. After a day of hard work on the best roads in the world, we check in to Grand Hotel Villa Serbelloni, where we stay two nights.
Tonight we have dinner in the hotel, upstairs from the restaurant. Since we have two days in this fantastic hotel, it is a moment of relaxation from all the active driving on the Alpine roads.
10.00 - Leaving Hotel
11:00 - Susten pass, Grimsel pass, Furka pass
13:00 - Lunch in The Chedi Andermatt
15:00 - Driving continues, Gotthard pass and the valley of Airolo
17:00 - Coffee stop in Lugano
18:00 - Arrival to Bellagio and Grand Hotel Serbelloni *****
20:00 - Dinner in the hotel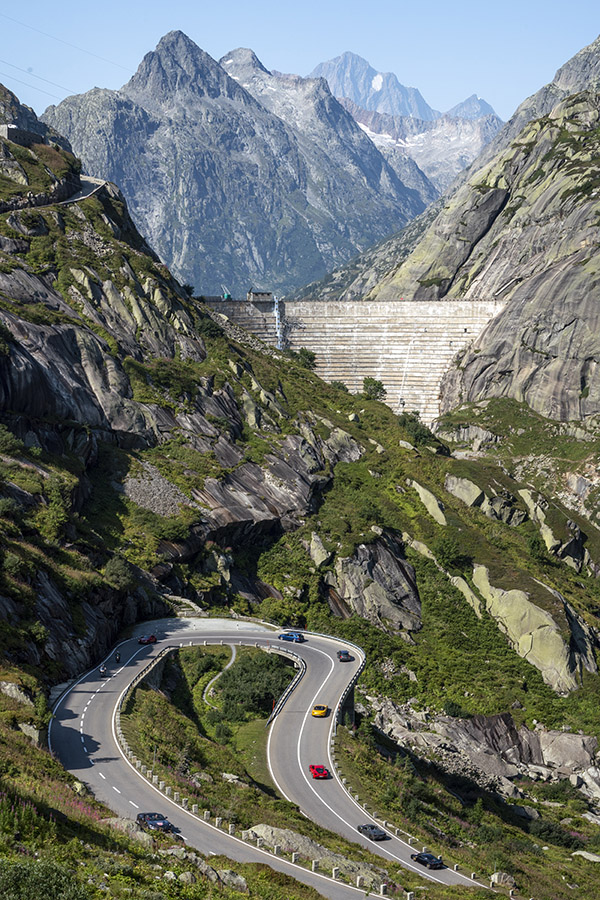 Wednesday 4 September - Lago di Como
After three days of driving and hard work we park our cars for the day. Instead, we do a boat tour of Como lake with visits to Villa Carlotta and Villa Melzi. We stop for lunch on Isola Comacina.
Back in the hotel during the afternoon, we relax and then have dinner in the town of Bellagio. Tonight we have dinner in Bellagio in Ristorante La Punta. It is a wonderful restaurant walking distance from the hotel.
12:00 - Boat leaves the hotel jetty
13:00 - Lunch on Isola Comacina
15:00 - Boat back to our hotel
20:00 - Dinner in Ristorante La Punta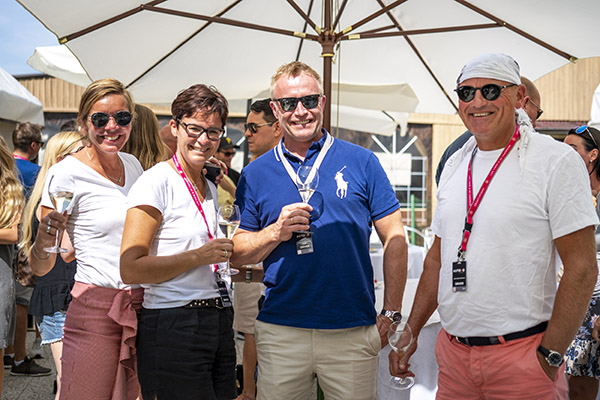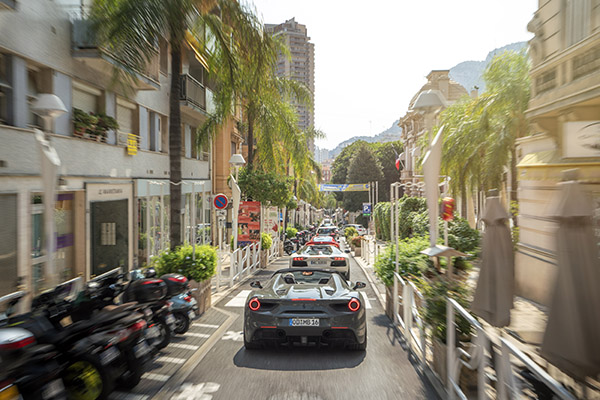 Thursday 5 September - Alassio and then Monaco
Two days of chilling in Bellagio is now over. Time to hit the road again. Today, our driving continues. We head south towards the Italian Riviera, where we stop for lunch. After lunch, we drive on the amazing roads of the Ligurian coast towards Monaco.
Hotel de Paris has been closed for three years during the renovation. It will be a pleasure to come back here and to park our cars on the roundabout outside the hotel this afternoon. Dinner tonight is in Buddha Bar.
09:00 - Leaving hotel
12:00 - Lunch in Liguria
14:00 - Driving on the coast continues
17:00 - Arrival to Hotel de Paris in Monaco *****
19:30 - Dinner in Buddha Bar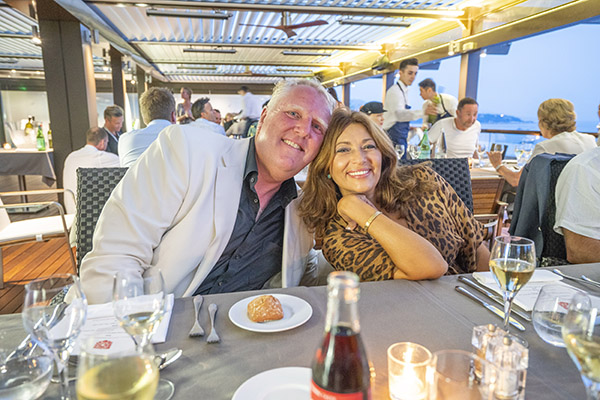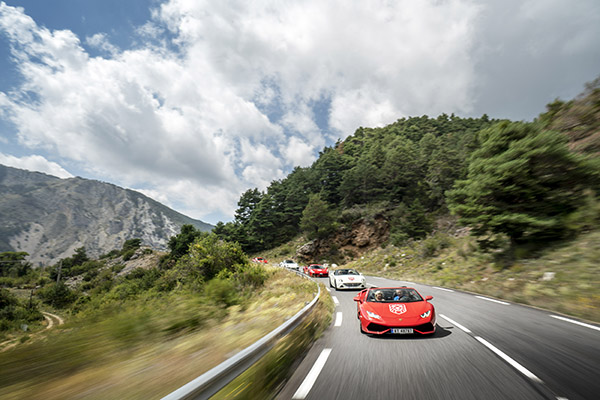 Friday 6 September - Route Napoleon and Saint-Tropez
This final day of driving we have two options. Either you leave the hotel in the morning, drive to Castellane for lunch and continue to Saint-Tropez on Route Napoleon. This drive is about two hours to Castellane, and then another two hours to Saint-Tropez after lunch.
The other option is to sleep in and drive directly to Saint-Tropez from Monaco at lunch time. After checking in to Byblos in the afternoon, we have drinks by the pool and then leave for Villa Romana for dinner at about 21.00.
10.00 - Leaving Hotel (optional)
12.00 - Lunch in Castellane (optional)
14.00 - Route Napoleon (optional)
17.00 - Arrival to Byblos Saint-Tropez *****
21:00 - Dinner in Club Gaio in the harbour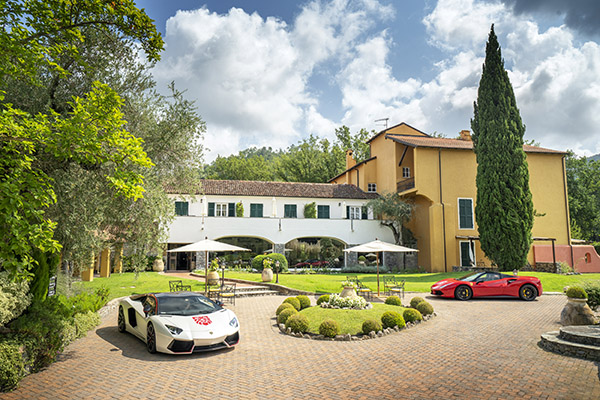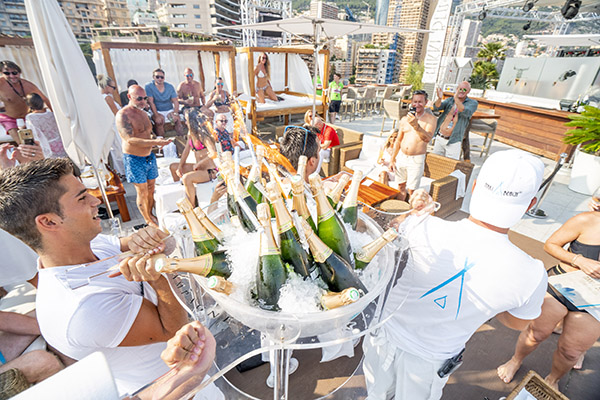 Saturday 7 September - Saint-Tropez
No driving today. Instead, we have late breakfast by the pool in Byblos hotel. Later, at about 15:00, shuttles pick us from to the hotel and drive us to a beach club where we have lunch (and maybe something to drink).
This evening we have dinner in Restaurant Rivea in Byblos.
11:00 - Late breakfast
15:00 - Shuttles to Beach Club for lunch
21:00 - Dinner in Cucina
Sunday 8 September - Thank you
Thank you for joining us on Gran Turismo Europa 2019. Check-out time from the hotel is at noon. Please let us know if you want to stay longer.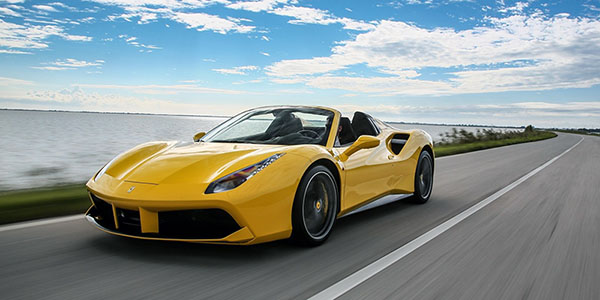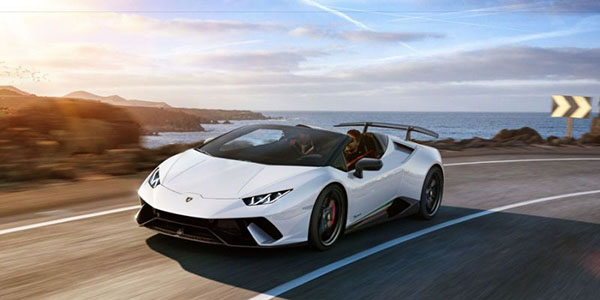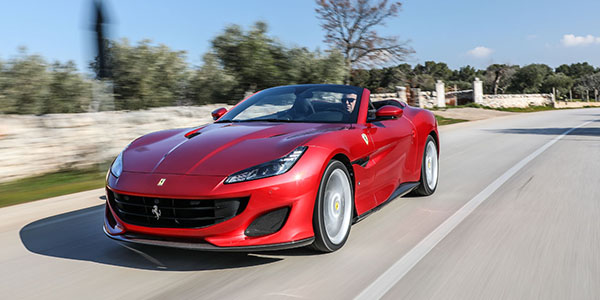 Rental supercars available
Great news for all our drivers from overseas. Now you can join our exclusive road trips without the hassle of shipping your supercar to Europe.
Starting from this season, we have a small fleet of rental supercars available for you to drive on our week-long road trips.
We have three cars in total: a Ferrari 488 Spider, a Ferrari Portofino and one Lamborghini Performante Spyder. Pricing and availability is indicated in the event registration form below.