Gran Turismo Spa 2011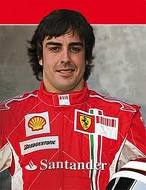 "You come into the corner downhill, have a sudden change of direction at the bottom and then go very steep uphill. From the cockpit, you cannot see the exit and as you come over the crest, you don't know where you will land. It is a crucial corner for the timed lap, and also in the race, because you have a long uphill straight afterwards where you can lose a lot of time if you make a mistake. But it is also an important corner for the driver's feeling. It makes a special impression every lap, because you also have a compression in your body as you go through the bottom of the corner. It is very strange - but good fun as well.", Fernando Alonso, F1 Champion 2005, 2006.
Eau Rouge - the most famous corner in the world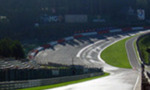 What Fernando Alonso is talking about is the most famous corner in the world - Eau Rouge. There is no other corner that is as challenging and scary on any other race track. Period. If you have the guts and master it, the reward is extreme satisfaction and ridiculously fast exit speed into the uphill straight that follows.
Spa-Francorchamps
No other track in the world has the same history as Spa-Francorchamps. Built as early as 1921 - six years prior to the Nurburgring - it was originally using public roads between the Belgian towns of Francorchamps, Malmedy and Stavelot. It is located in the mountains of the Ardennes, hence the steep up- and downhill sections.
Spa-Francorchamps is a high speed circuit. Probably the fastest in the world. Some of the high speed sections like for example the rivage –les fagnes section will bring chills down your spine and separate the men from the boys.
The high average speeds on the track have made it very popular in the racing community, especially among formula one drivers. Many say that it is similar in excitement as driving on the Nurburgring, but much safer since it is easy to learn and has run-off areas that are hundreds of meters, instead of one meter of slippery grass and certain severe damage of your car as on the Nurburgring.
The track is long, seven kilometres, and has 21 turns. With only 80 cars admitted to the event you will have a good opportunity to both learn the track with our instructors and set a good laptime at the end of the day. A fairly good driver can learn the basics of the track in a few hours.
Instruction by RSR Spa
Ron Simons and his team of instructors will provide us with first class instruction on the track. Ron and his crew has many years of experience both from racing and instruction on Spa Francorchamps.
Hotel La Source
Located over the celebrated La Source corner, this 4-star hotel looks out over the Spa-Francorchamps race track. Between nature and motor racing legend, its 86 rooms and 4 suites are privileged spectators at the finest race track in the world.
Its geographical location makes the Hôtel de la Source unique, the No. 1 place to stay as a VIP, not only to witness the numerous races on the timetable of the Spa-Francorchamps race track, but also to join in the many carnivals, festivals and other events that bring the region to life all year round.
Event schedule
Please note that the schedule is preliminary and subject to additions or changes at a later stage.
11 April: Official opening in Spa-Francorchamps
14.00 Check in to Hotel de la Source
19.00 Briefing dinner in Hotel
12 April: Spa-Francorchamps
One full day on the track with catered lunch and instruction.
13 April: Nurburgring
12.00 Check out from Hotel de la Source
13.00 Drive to Nurburg (roughly 100 km)
15.00 Check-in Hotel Blaue Ecke in Adenau *
17.30-20.00 Touristenfahrt Nurburgring
21.00 Dinner at Hotel Blaue Ecke in Adenau
14 April: Drive to Holland
12.00 - Check out from Hotel
Drive to Holland (roughly 300 km)
Special event: Factory visit
Check-in hotel Okura in Amsterdam *
15 April: Zandvoort
10.30 Drive to Zandvoort (30 min)
11.00-19.00 Trackday Zandvoort
21.00 Dinner and party in Amsterdam *
16 April
12.00 - Check out from Hotel
* These hotel nights are not included in the fee for Spa. We are working with offers from hotels now and will be able to recommend locations in Nurburg/Adenau and Amsterdam next week.
Join us on Spa-Francorchamps!
Registration is 1400 EUR (+ VAT) and includes 1 day on Spa-Francorchamps, two nights in a four star hotel, catered lunch on track, instruction, welcome and closing dinner and the option of joining us in Zandvoort racetrack on the 15 April at no extra cost.