The official movie from 2012.
Gran Turismo Polonia 2013
Gran Turismo Polonia is a three day track driving event on Tor Poznan in Poznan, Poland. Marching into its ninth edition, Gran Turismo Polonia has become the most important super car event in Poland. It all started back in 2005, when Peter Ternström invited his fellow super car owners in Scandinavia to his second home country of Poland. Since then, no other event attracts so many super cars to Poland and the race track in Poznan each year.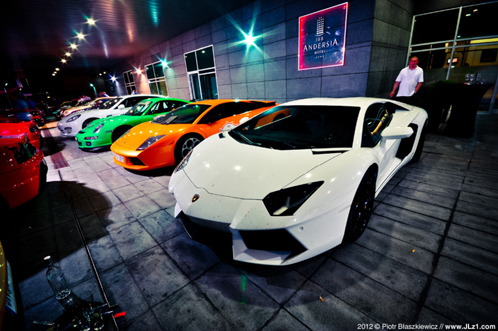 Parking on the premises of Andersia Hotel in Poznan in 2012. Over 140 super cars visited Poznan and Gran Turismo Polonia, amongst them this immaculate Lamborghini Aventador and a Koenigsegg CCX.
Poznan and Tor Poznan
Situated in the far west of the country only 250 km from Berlin, Poznan is one of the major cities in Poland with over 800'000 inhabitants. Due to a high concentration of universities some 200'000 are students.
Poznan is also the home of the only race track in Poland - Tor Poznan. Tor Poznan is a technical and fast track, which takes a lot of practice to master. The track got new asphalt after our first visit in 2005 and is now in very good condition.
The main object for our driving sessions on Tor Poznan is to find the ideal line of the track. The ideal line consists of positioning, breaking points, turn-in points and curve apexes. The instructors are eager to help you find the optimum line for your car and driving style.
We drive according to "open pit lane" regulations. This means that there are no strict driving sessions - you can go out on the track whenever you like.
During the examination on the third day, your skills of driving a fast lap on the ideal line will be put to the test.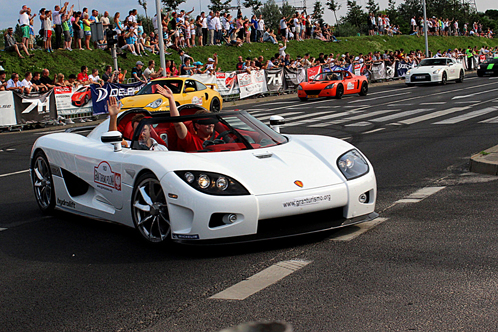 Koenigsegg CCX on the opening ceremony of Gran Turismo Polonia 2012. Over 60'000 people came to watch, more than any football game played in Poland during EURO2012
30 June at 15.00 - Opening ceremony on the streets of Poznan
Ever since the 2009 edition of Gran Turismo Polonia, the organizers have, together with the city of Poznan built a temporary race track in the middle of the city. This for an opening ceremony open to the general public. The opening ceremony was an instant success and attracts spectators from all over Poland.
During the 3 hour-long opening ceremony all the spectators will be able to feast their eyes and listen to the on pure mechanical muscles of Ferraris, Lamborghinis, Porsches and all other super cars attending the event.
Imagine driving your Ferrari at full speed on a closed 3.2 kilometer circuit in the middle of a city, when some 60 000 people are watching. It is an incredible experience.
Event schedule for 2013
Gran Turismo Polonia officially starts in Poznan on Sunday 30 June with participant check-in at the Andersia Hotel and the opening ceremony on Ul. Prymasa Augusta Hlonda/Zawady. Please note that this event schedule is preliminary and subject to additions at a later stage.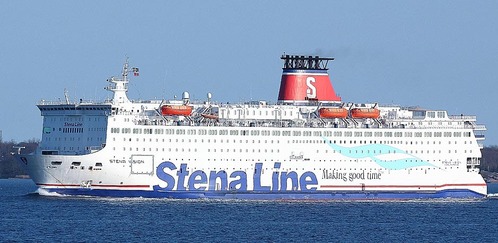 Optional: Friday 28 June-30 June: Pre party with ferry transfer fom Sweden
Pre-party to Gran Turismo Polonia in Sweden and Gdansk, Poland, which includes the ferry transfer to and from Sweden. To read more about the pre-party, please check the Pre-party section. This is not a part of the official itinerary, and comes at an additional cost.
Sunday 30 June: Official opening in Poznan
8.00 - Gran Turismo check-in desk opens in Andersia Hotel
15.00 - 18.00 Opening ceremony on Ul. Prymasa Augusta Hlonda/Zawady
20.00 - Briefing dinner at Andersia Hotel Poznan
Monday 1 July: Tor Poznan
9.00-17.00: Driving on the track with catered lunch and instruction. Please note that this part of the event is only open for participants, accredited media and VIP guests.
15.00: Michelin presentation in the catering tent
19.00 - Dinner and party in restaurant Whiskey in the Jar on the city square
Tuesday 2 July: Tor Poznan
9.00-17.00: Driving on the track with catered lunch and instruction. Please note that this part of the event is only open for participants, accredited media and VIP guests.
Wednesday 3 July: Gala dinner and closing party
9.00-17.00: Driving on the track with catered lunch and instruction. Please note that this part of the event is only open for participants, accredited media and VIP guests.
20.00 - Gala dinner at Andersia hotel
21.00 - After party for participants and VIP guests at Andersia hotel
Thursday 4 July: KTHXBYE and see you next year
12.00 - Partcipants leaving Poznan
Optional: Thursday 4 July - After party in Palac Mierzecin

As a participant of Gran Turismo Polonia you can join us to Palac (Castle) Mierzecin for an additional night with your friends.
Palac Mierzecin is famous for both their spa and their kitchen. Here we wind down after four intense days in Poznan, heal our battered bodies and have a fantastic grilled wild boar for dinner on the terrace.
This optional extra day is only 250 EUR for two people, and includes both dinner and accomodation in the castle.
13.00 - Participants leaving Poznan
15.00 - Arriving to Palac Mierzecin
15.00-20.00: Relax in the Spa (or by the bar)
20.00 - Grilled wild boar dinner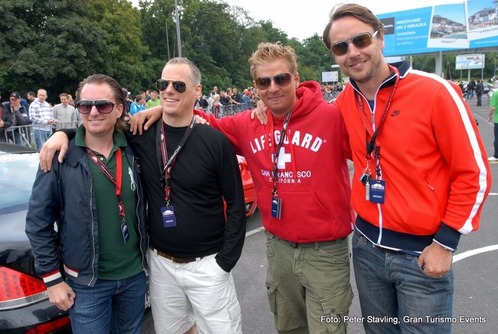 Join us in Poland!
Registration is 2200 EUR (+ VAT) and includes three days on the race track Tor Poznan, four nights in a four star hotel wth safe parking for your car, catered lunches on track, world class instruction, welcome and closing dinners and some fantastic memories to bring back home.
The price is for one car with driver + passenger. Both are allowed to drive on the track, sharing the same car.
Please state in your registration if you want two single beds or one double bed in your hotel room. Yes, we can invoice your business.
>> Read more and register here