Gran Turismo Polonia 2011
Gran Turismo Polonia is a three day track driving event on Tor Poznan in Poznan, Poland. Marching into its seventh edition, Gran Turismo Polonia has become the most important super car event in Poland. It all started back in 2005, when Peter Ternström invited his fellow super car owners in Scandinavia to his second home country of Poland. Since then, no other event attracts so many super cars to Poland and the race track in Poznan each year.
Poznan and Tor Poznan
Situated in the far west of the country only 250 km from Berlin, Poznan is one of the major cities in Poland with over 800'000 inhabitants. Due to a high concentration of universities some 200'000 are students.
Poznan is also the home of the only race track in Poland - Tor Poznan. Tor Poznan is a technical and fast track, which takes a lot of practice to master. The track got new asphalt after our first visit in 2005 and is now in very good condition.
The main object for our driving sessions on Tor Poznan is to find the ideal line of the track. The ideal line consists of positioning, breaking points, turn-in points and curve apexes. The instructors are eager to help you find the optimum line for your car and driving style.
We drive according to "open pit lane" regulations. This means that there are no strict driving sessions - you can go out on the track whenever you like.
During the examination on the third day, your skills of driving a fast lap on the ideal line will be put to the test.
Event schedule for 2011
Gran Turismo Polonia officially starts in Poznan on 3 July with participant check-in at the Andersia Hotel and the street show / public display. Please note that this event schedule is preliminary and subject to additions at a later stage.
3 July: Official opening in Poznan
12.00 - Gran Turismo check-in desk opens in Andersia Hotel
15.00 - 18.00 - Special event in Poznan
20.00 - Briefing dinner at Andersia Hotel Poznan
4-6 July: Tor Poznan
Three full days on the track with catered lunch and instruction. Please note that this part of the event is only open for participants, accredited media and VIP guests.
6 July: Gala dinner and closing party
20.00 - Gala dinner at Andersia hotel
22.00 - After party for participants and VIP guests at Andersia hotel
7 July: KTHXBYE and see you next year
12.00 - Partcipants leaving Poznan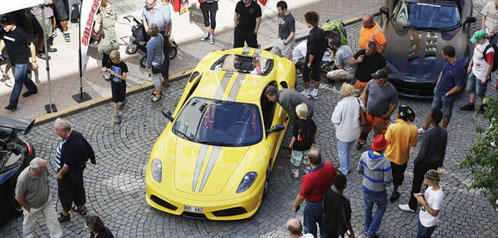 Pre-party in Karlskrona and Sopot!
If you want, you are more than welcome to join the optional pre-party 1-2 July with us in Karlskrona/Sweden and Sopot/Poland. The optional pre-party now includes the ferry ride from Sweden to Poland with Stena Line (Karlskrona-Gdynia).
During the Friday afternoon we are closing down the central square of Karlskrona and transforming it into a VIP-parking for all participants of Gran Turismo Polonia travelling with Stena Line. A racing lounge (with a bar) will be built for us and a nice BBQ buffet will be served, free of charge!
Ferry with Stena Line from Karlskrona 1 July!
On top of this we also managed to get a nice discount on a number of ferry tickets. This offer is limited, so you need to make your reservation with us promptly! Please send an email to bjorn@acerraevents.com for more information regarding ferry tickets and the pre-party in Karlskrona.
1 July - Optional pre-party in Karlskrona/Sweden
15.00 - Pre-party in Karlskrona central square with BBQ and racing lounge
20.00 - Ferry to Poland from Karlskrona with Stena Line
2 July - Optional pre-party in Sopot/Poland
07.00 - Ferry from Sweden arrives to Gdynia, 10km from Sopot
16.00 - Pre-party in Sopot starts
3 July - Leaving Sopot for Poznan
11.00 - Participants in Sopot leaving for Poznan in one huge disorganized group
15.00 - Disorganized group arrives directly to special event on the streets of Poznan
Join us in Poland!
Registration is 2000 EUR (+ VAT) and includes 3 days on Tor Poznan, four nights in a four star hotel, catered lunches on track, instruction, welcome and closing dinner with at least one special event in either Sopot or Poznan.