Gran Turismo Gotland 2011
In the Baltic sea off the swedish coast lies the island of Gotland. This picturesque island is mostly a peaceful place, its humble inhabitants busy with growing carrots and herding sheep.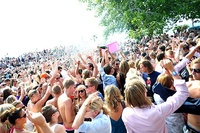 During the summer, though, it is a completely different story. Almost a million tourists from northern europe turn the island into a summer paradise, with lots of sunshine and warm water. During the last weeks of July things really go bananas. Some 200'000 of the scandinavian party elite invade the medieval city of Visby for the most decadent partying since the age of vikings.
Gotland and Visby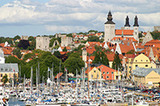 Gotland is the largest island in the Baltic Sea and has a population of roughly 60'000 with 22'000 living in Visby, the main town. The medieval town of Visby has been entered as a site of the UNESCO world heritage programme. An impressive feature of Visby is the fortress wall that surrounds the old city, dating from the time of the Hanseatic League.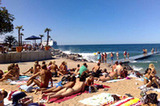 During the summer, Gotland, with its warm weather with lots of sunshine and sandy beaches, becomes a very popular tourist destination for people from both Scandinavia and northern europe. Visby is also famous for its non-stop partying during the last weeks of July, attracting the cream of the in-crowd from mainland Sweden.
The track - Gotland Ring
Gotland is also home to the arguably best track in Sweden - Gotland Ring. With three kilometres of twists, turns and hills it is a lot of fun. Located northeast of Visby it is roughly half an hour drive from our hotel. We have three full days on the track, with instruction and catered lunch.

The hotel - Clarion Hotel Visby
The best hotel in town, by far, is Clarion Hotel Visby. A host of features of the building still bear witness to its history, which goes right back to medieval times, including the compulsory pool and spa area in the basement.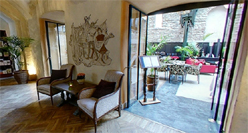 It is located near the boat harbor in the oldest part of Visby, putting us right in the middle of all the action. Everyone who has been to Visby, knows that it is extremely hard to get lodging during the most busy time of the summer - the last weeks of July. It is also extremely expensive, as prices skyrocket for high season.
Booking nine months in advance we have secured almost the entire hotel for the participants during the event. Visby Hotel will be Gran Turismo Hotel.
"Im really happy that Gran Turismo Events have chosen our fine establishment for their event in July. Please tell the participants to be gentle to our historic hotel - 700 years of history is quite hard to come by these days." - Pernilla Kasselbäck, Clarion Hotel Visby
VIP services
Now, how do you park 80 supercars in the centre of a medieval city? With the kind help of the city of Visby and the police we are building a VIP parking lot in the harbor area, and putting it under heavy security for our stay.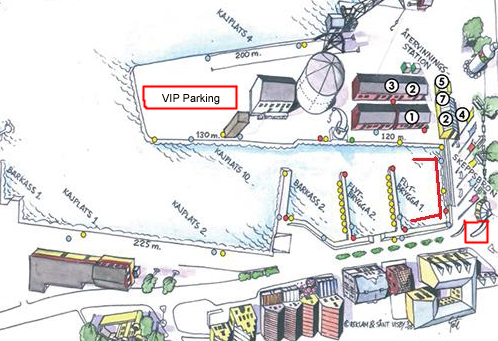 While we are at it, we are also building a VIP lounge area in the centre of the harbor. A place where the participant and selected guests can hang out, meet and have a drink in the sun. See it as your own private oasis for the duration of the event.

Bringing your boat or yacht? No worries, we have booked 10 of the best spaces for your boat next to our VIP lounge area. Bringing your helicopter? No worries, we have a designated parking for this, too.
Queues to popular clubs can be ridicolusly long during this week in Visby. But not for us. Our badges will provide easy access to a select number of clubs and their VIP areas.
Traveling to Gotland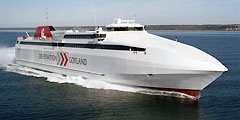 The recommended way to get to Gotland is by Ferry. Especially if you are bringing your car. Ferries leave the mainland from the ports of Nynäshamn and Oskarshamn, and both are operated by Destination Gotland. Please book your ferry as soon as possible, as this week is extremely popular.
Event schedule
Please note that the schedule is preliminary and subject to additions or changes at a later stage.
20 July - Arrival
14.00 Event check-in in Hotel lobby
20.00 Briefing in hotel banqueting area
21.00 Dinner and drinks at Hamnplan 5
21 July - Gotland Ring
10.00-17.00 Gotland Ring, catered lunch
20.00 Special event at Gutekällaren
22 July - Gotland Ring
10.00-17.00 Gotland Ring, catered lunch
20.00 Special event at Burmeister
23 July - Gotland Ring
10.00-17.00 Gotland Ring, catered lunch
20.00 Dinner and drinks at Kharma
24 July - Departure
12.00 Check-out from hotel
Red Carpet VIP Service
We are joining forces with Red Carpet for Gran Turismo Gotland. Red Carpet is the premiere VIP-service for the elite socio-economic group of Stockholmers. Since this group of people move to Visby on Gotland for the last week of July, so does the services of Red Carpet.
The official from Red Carpet is the olympic heavy-weight champion of getting people into the hottest clubs in Stockholm. He is at your service and will help you with VIP entry to all the best clubs in Visby.
Bring an helmet
One last thing. To enter the track you need an Helmet. Bring an helmet to Gotland or miss out driving on the track entirely. You dont need an FIA approved racing helmet, your daughters moped-helmet will do. Just make sure it comes along for the ride.
Join us on Gotland!

Registration is 2500 EUR (+ VAT) and includes four nights in Visby Hotel with breakfast, three days on Gotland Ring, catered lunches on track, instruction, welcome and closing dinner with special events almost every day. It also covers safe parking for your car, access to the VIP lounge area and VIP access to a select number of clubs. This for car with driver + passenger.