We are very happy to announce a new edition our event with Mille Miglia. For the 2019 edition, this event is twice as long, with two full days of driving and three nights in the beautiful Chianti district in Tuscany.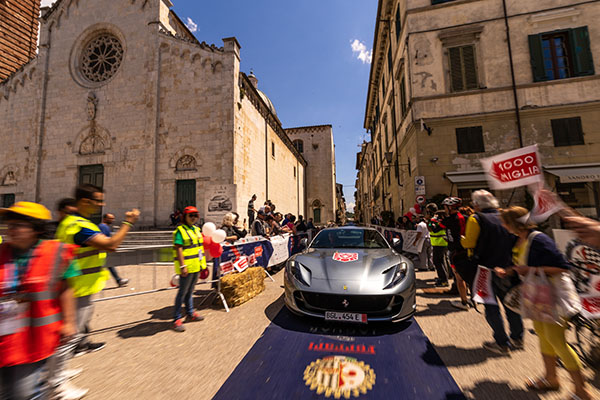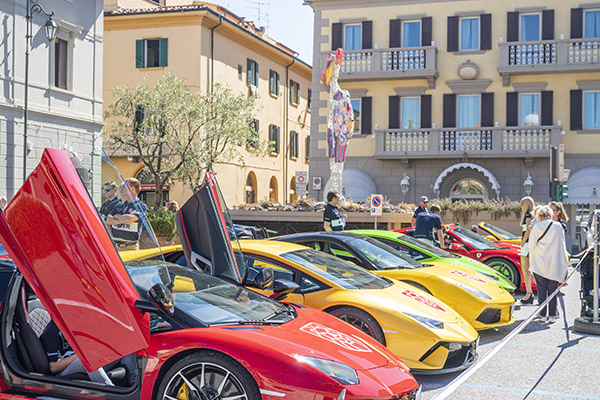 Mille Miglia
As you already know, Mille Miglia is, without a shred of doubt, the most prestigious car rally in the world. It takes place every year, in May, in Italy. The first rally was held in 1927 as an alternative to Formula one, and attracts about five million(!) spectators each year.
The rally always starts and ends in Brescia in the north of Italy. It then goes south to Rome and back to Brescia. The route is different every year. It is held on normal roads and the distance is always 1000 miles. Hence the name Mille Miglia (thousand miles).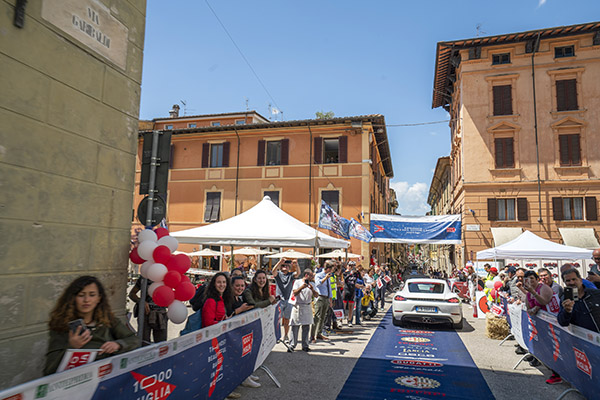 Join us for Mille Miglia in Tuscany 16-19 May
As in 2018, we are joining Mille Miglia with a Gran Turismo group. Not for the entire rally of 1600 km, but for the very best roads: the stages that go through northern Tuscany and Emilia-Romagna on Friday the 17th of of May. The day after, on Saturday the 18th, driving continues with a road trip in the Chianti district with wine- and truffle tasting.
In total, you will have over 500 km of pure bliss with your supercar during the two days of driving in one of the most beautiful places in the world.
Now, here comes the best part: We have been able to source 23 super cars for this event for you. Ferraris, Lamborghinis, some Porsches and two Morgans. (ok, Morgans are not super cars, but still cool) You can find all details about the available cars below.
This means that you don't need to bring your own car to Italy for this weekend. You can fly in to Tuscany, use one of our super cars, and enjoy Mille Miglia like a rock star. Closest airport is Florence, but Pisa is also near by. Let us know where you intend to land and we can organise transfer to Siena.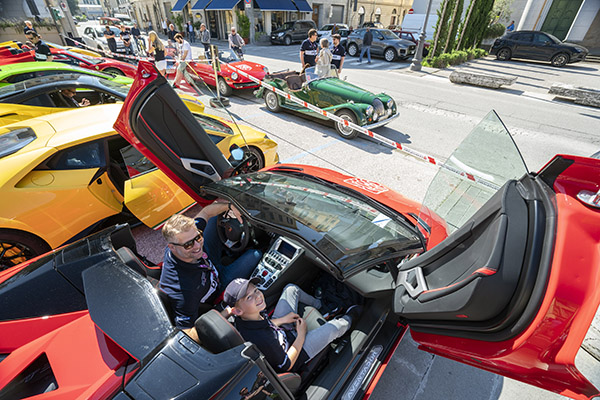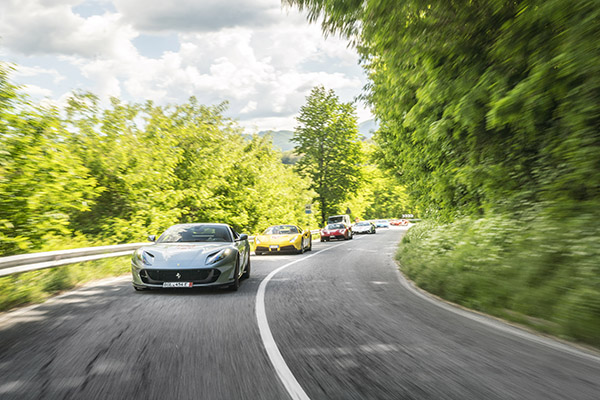 The most amazing and brilliant Mille Miglia plan ever
Our base for the event will be Borgo Scopeto Relais, a chateaux just north of Siena in Tuscany. It is a wonderful location on a top of a hill. We will stay in this wonderful chateaux for the duration of the event - three nights.
Check-in to the event will be on the Thursday 16 of May. The car you have selected will be awaiting for you in the parking of Borgo Scopeto. Want to arrive in the afternoon and go for a drive? No problem, just be ready for the mingle by the pool at 19:00 with aperitivo. Briefing and dinner at 20:00.
The next day - Friday 17 of May - we drive with Mille Miglia. We will join the rally stages between Siena to Vinci, Montecatini, Florence, Mugello, Passo della Futa and then (almost to) Bologna. Stop in Montecatini for lunch.
Expect tens of thousands of spectators and hundreds of the most exotic cars in the world - both classic and modern - joining the rally. The roads are closed by the police, with cheering crowds demanding higher speeds and more "dynamic" driving. An unbelievable story to tell your friends back home.
The driving ends with a glass of prosecco and a light snack at the peak of Passo della Futa between Florence and Bologna. After this, we drive back to Borgo Scopeto in Siena, for aperitivo and dinner.
The day after, Saturday the 18th, driving continues. During this second day of driving, we are exploring the fantastic hilly country roads of Chianti, visiting places like Greve in Chianti and driving the famous road 222 - Strada del Vino.
During the afternoon we will stop for a wine- and truffle tasting in the vicinity of San Gimignano, before driving to Volterra and then back to Siena and Borgo Scopeto. Aperitivo by the pool at 19, then dinner at 20. This night we will have Fiorentina steak and wine from the Bolgheri region.
Total amount of driving with your supercar will over 500 kilometers divided on two driving days. You will be quite tired of driving after two intense days with your rental supercar on the road with us.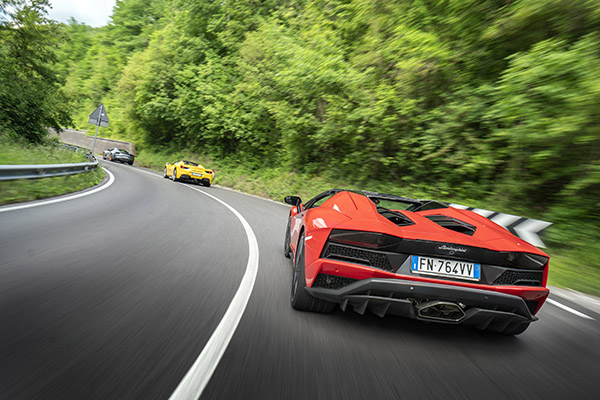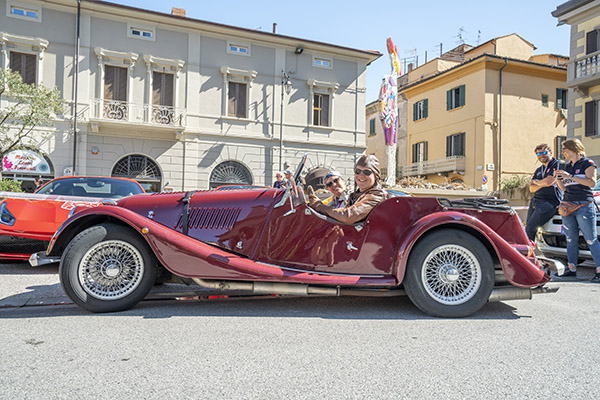 16 May - Arrival to Tuscany
14.00 - Check in to the event opens in Borgo Scopeto Relais just north of Siena, in the heart of the Chianti region. Here you sign for your car, get your hotel room and meet all the other drivers. Arriving early and want to go for a spin in your rental mental supercar? No problem. Just come back for the briefing at 19.
19.00 - Aperitivo and welcome mingle by the pool
20.00 - Dinner and short briefing in the hotel restaurant
17 May - Mille Miglia
09.00 - Breakfast
10.00 - Driving begins
12.00 - Lunch in Montecatini Terme
13.30 - Driving continues to Florence and Passo della Futa
16.00 - Arrival to peak of Passo della Futa - prosecco time
17.00 - Drive back to Siena
19.00 - Aperitivo by the pool
20.00 - Dinner
18 May - Chianti roadtrip
09.00 - Breakfast
10.00 - Driving on Strada del Vino
12.30 - Lunch and wine tasting in Tenuta Torciano
15.00 - Drive to Volterra
16:00 - Stop for coffee in Volterra
16:30 - Driving continues back to Siena
19.00 - Aperitivo by the pool
20.00 - Dinner
19 May - Departure
12.00 - Check out from the hotel. Thank you for joining us for Mille Miglia this year.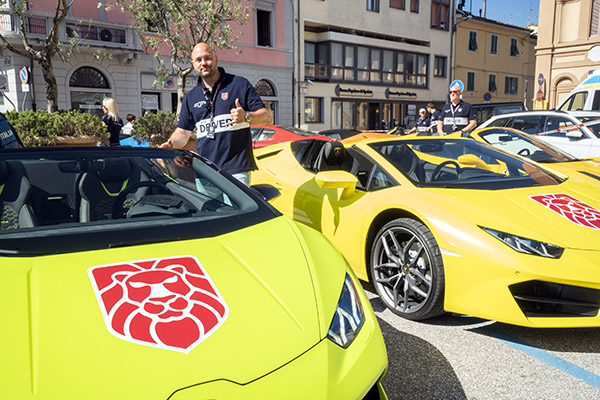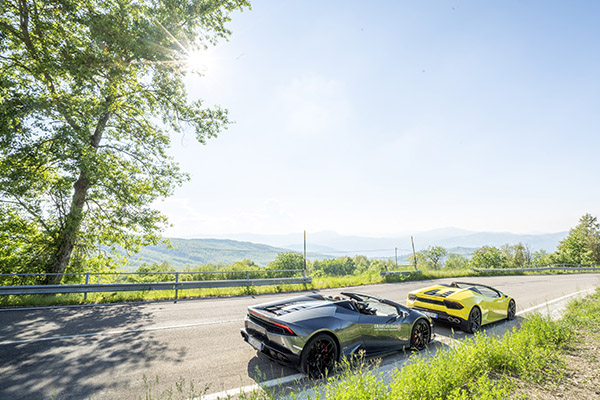 I want to join this ridiculously fantastic event
You are more than welcome. To learn more about available supercars and to register to the event, please see this page