We are sorry, but this event is fully booked.
As you already know, Mille Miglia is, without a shred of doubt, the most prestigious car rally in the world. It takes place every year, in May, in Italy. The first rally was held in 1927 as an alternative to Formula one, and attracts about five million(!) spectators each year.

The rally always starts and ends in Brescia in the north of Italy. It then goes south to Rome and back to Brescia. The route is different every year. It is held on normal roads and the distance is always 1000 miles. Hence the name Mille Miglia (thousand miles).
Join us for Mille Miglia in Tuscany 17-19 May
As in 2017, we are joining Mille Miglia with a Gran Turismo group. Not for the entire rally of 1600 km, but for the very best roads: the stages that go through Tuscany, Liguria and Emilia-Romagna on the 18th of May.
Now, here comes the best part: We have been able to source 21 super cars for this event for you. Ferraris, Lamborghinis, one Porsche, one Audi, two Morgans (ok, not super cars, but still cool) and one big black completely bad-ass Bentley convertible. (You can find all details about the cars below).
This means that you don't need to bring your own car to Italy for this weekend. You can fly in to Tuscany, use one of our super cars, and enjoy Mille Miglia like a rock star.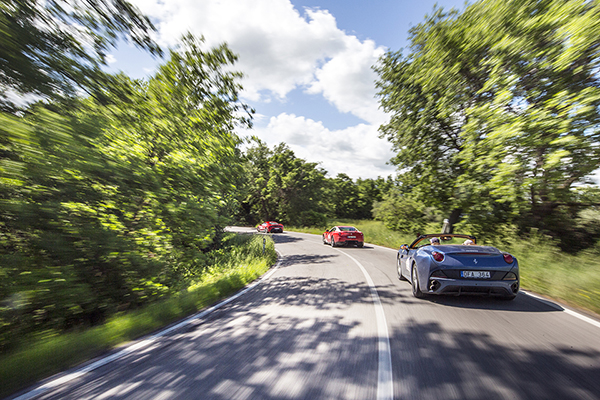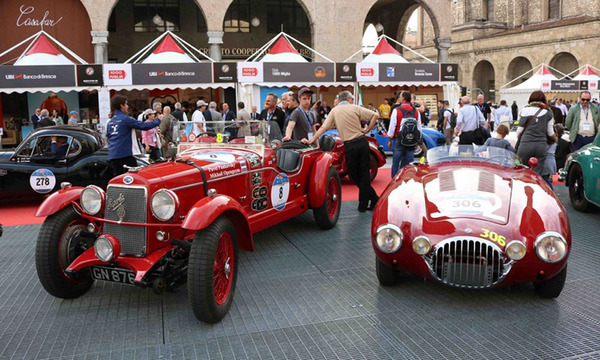 Our most amazing and brilliant Mille Miglia plan
The event starts and ends in Tuscany, in the city of Pontedera which is close to Pisa. There is a big airport in Pisa. Arrival is on the 17th of May, a Thursday, where you check-in to the event and get your car. The same evening we have a drivers briefing and dinner in the famous restaurant "Divina Comedia di Gusto".
The day after, on Friday the 18th of May, the real fun begins. We start in the morning and drive to Lucca, where we have lunch in a restaurant on the Mille Miglia route. After the passage of the first Ferrari group, it is our time to join the rally. We follow the route and drive to Sarzana and then Passo della Cisa.
Expect tens of thousands of spectators and hundreds of the most exotic cars in the world - both classic and modern - joining the rally. The roads are closed by the police, with cheering crowds demanding higher speeds and more "dynamic" driving. An unbelievable story to tell your friends back home.
The driving ends with a glass of prosecco in the city square of Parma. Later, we drive back to Pontedera, but now using the A15 and then A12 autostrada. Back in Pontedera we have aperitivo at 19 in the hotel, and then dinner at 20. You will be quite tired after a long day on the road with us and your supercar after this day.
17 May - Arrival to Tuscany
14.00 - Check-in to the event opens in Hotel Harmonia **** in Pontedera. Here you sign for your car, get your hotel room and meet all the other drivers. Arriving early and want to go for a spin in your supercar? No problem. Just come back for the briefing at 19. Whatever car you select, it is yours until Saturday night.
16.00 - Visit to the Piaggio museum and factory (optional)
19.00 - Aperitivo and drivers briefing in the hotel
20.00 - Dinner in Divina Comedia di Gusto

18 May - Mille Miglia
9.00 - Breakfast
10.00 - Driving begins
12.00 - Lunch in Lucca
13.30 - Driving continues to Sarzana and Parma
16.00 - Arrival to Parma - prosecco time
17.00 - Drive back to Pontedera
19.00 - Welcome (back) drink in Hotel Harmonia in Pontedera
20.00 - Dinner in Ristorante La Scala
19 May - Departure
12.00 - Check out from the hotel. Thank you for joining us for Mille Miglia this year! KTHXBYE and see you on the Nurburgring.
I want to join this insanely awesome Mille Miglia event
You are more than welcome. This event includes two nights in the little hotel in Pontedera, two dinners in the selected restaurants in Tuscany, the lunch in Lucca, a Gran Turismo welcome pack, and a most spectacular driving experience with Mille Miglia. But wait! One more thing - it also includes a car:
For an updated list of available cars, please go here: Gran Turismo Mille Miglia 2018.



Complete 2018 Calendar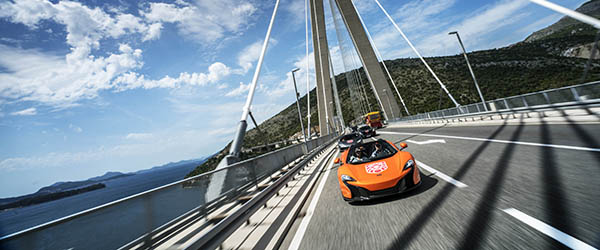 Gran Turismo Adriatica (5 - 13 May)
We start the season on the Adriatic coast, with a road trip from Croatia all the way to Greece. We start in Opatija and drive south through Croatia, Bosnia, Montenegro and Albania before we finish with a weekend in Thessaloniki in Greece.
>> http://www.granturismoevents.com/gran-turismo-adriatica-2018/
Gran Turismo Nurburgring (27- 30 May)
The most challenging racing track in world. 21 kilometers of fun. As always, we have two exclusive days on the track and three nights in Nurburg. This event is limited to 144 cars.

>> http://www.granturismoevents.com/gran-turismo-nurburgring-2018/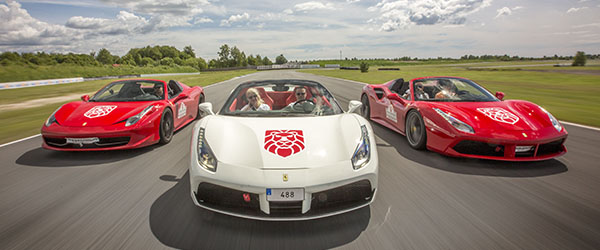 Gran Turismo Polonia (27 June - 1 July)
Gran Turismo Polonia. As always we have three days on track, and four nights of fun in Poznan. For the 2018 edition we are limiting the number of places to 144 cars.
>> http://www.granturismoevents.com/gran-turismo-polonia-2018/
Gran Turismo Baltica (24 - 29 July)
After six(!) years in Pärnu it is time to try something new. For the 2018 edition of this event we go to Riga and Bikernieku racing track. The track is only 7 km from the city centre, and we stay in the number one hotel in town - Radisson Blu. Three days of driving on the track. The last day (Saturday) we close down four streets in the city for a street show. While Riga has almost the same population as Stockholm you can be sure that we will have a lot of attention.
>> http://www.granturismoevents.com/gran-turismo-baltica-2018/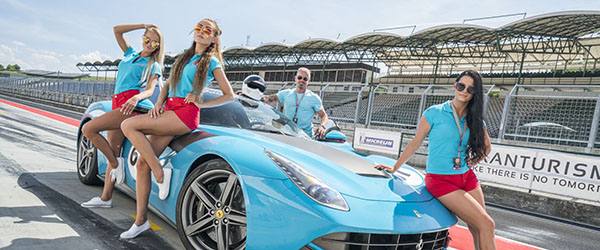 Gran Turismo Hungaria (14 - 19 August)
Hungaroring and Budapest are awesome. In 2018 we are coming back. This time we will have three days on track - Wednesday, Thursday and Friday. The last day, Saturday, we organise a super car road trip through Budapest to Lake Balaton for lunch (and back).

Just like in 2017 we will be staying at a hotel on the Danube, walking distance to all the great night life of Budapest. The days we will spend on the F1 race track hungaroring, and the nights will be in town. Every evening we will have a dinner reservation at new and exciting place.
>> http://www.granturismoevents.com/gran-turismo-hungaria-2018/ 
Gran Turismo Europa (25 August - 2 September)
While in 2017 we tried something completely different, in 2018 we are back with the classic Europa road trip. For the 2018 Europa tour we return to Switzerland and the most beautiful mountain passes in the world. Say hello (again) to Stelvio pass, Grimsel- and Furka pass. Fully booked.

>> http://www.granturismoevents.com/gran-turismo-europa-2018/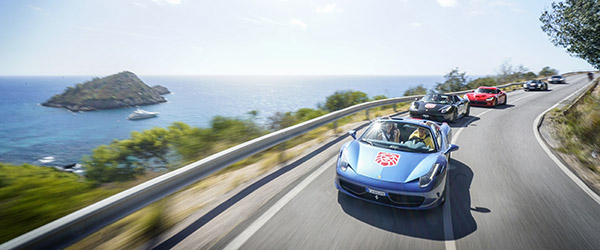 Gran Turismo Italia (8-16 September)
Following our Tuscany event in 2017, we are organising a new event in Italy in 2018. Next year we intend to explore the beautiful southern part of Italy. Start is in the Vatican(!) on the 8th of September. Then we drive south towards the Amalfi coast and Positano, Calabria and Puglia. Fully booked.

>> http://www.granturismoevents.com/gran-turismo-italia-2018/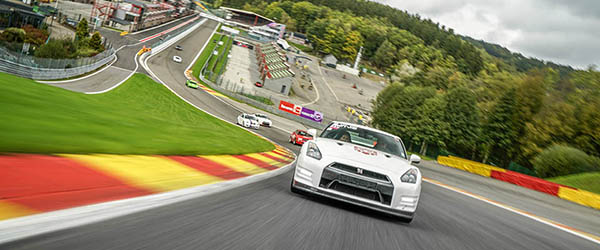 Gran Turismo Spa (25-28 September)
For many, Spa-Francorchamps is the best racing track in the world. It has become a tradition to finish our seasons on here. As always we will have two full days of driving on the track, and three nights in Hotel de la source, located just by the track.