Official video released
Extra - Read all about it!

Our friends at the swedish edition of auto motor & sport did extensive coverage of Gran Turismo Nurburgring.
The result is available in an almost 10-page story in issue 14 of auto motor & sport, available in stores from 1 July. You can also read it online here.
Gran Turismo Nurburgring
The holy grail of motor sport lies deep in the Eifel mountains of Germany - the Nurburgring. It is, mildly put, the most respected circuit in the world with millions of fans.
Now, anyone who has been on a public day on the ring knows that while it is still good fun, the track is congested with annoyances like motorcycles, slow cars and even buses with tourists.
We intend to change this. Imagine a track which is virtually empty. To do this, Gran Turismo Events has, as the first swedish private entity, rented the entire Nurburgring Nordschleife. It is ours to play with on the 25th of May!
21 kilometres of heaven and hell
Nurburgring is, by far, the most prestigious racetrack in the world. Stretching almost 21 kilometres it is a true challenge for all drivers. Learning the track is nothing one can do in an afternoon - it is often a lifetime project for many members of the sportscar community to master the ring.
 
The interest in the track has risen sharply in recent years, where car manufacturers laptimes around the track have become more relevant performance figures than the standard 0-100 acceleration or top speed.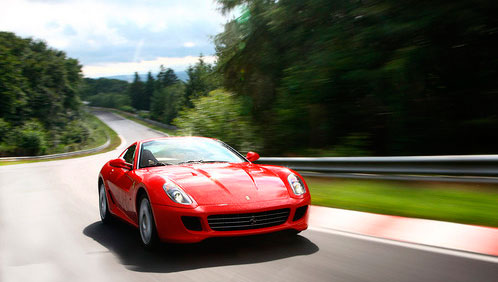 The ultimate Nurburgring experience
While the event is limited to approximately 100 cars you can be sure to get the ultimate Nurburgring experience. The track will be clear from motorcycles, buses and other disturbing features of an open public day.
As the track is entirely yours you dont have to stop at Grune Hölle each lap, but keep the gas pedal to the floor right from Döttinger Höhe all the way to Tiergarten - something that most of us only have experienced in computer games. 
Since the number of cars on the track are so few you will probably do some laps without seeing any other traffic at all. A mighty feeling on such a large track, and an opportunity to really test the limits of your vehicle.
Safety and instructors
Both newcomers and more experienced drivers on the Nurburgring are welcome to use any of the experienced instructors we have employed for the event. Some of them are well known figures from international motor sports.
 
Nurburgring is a dangerous track with minimal safety margins. Our event comes with full safety package with marshalls, ambulances, firetrucks and helicopters if an incident should occour on the track.
Accomodation - Dorint Hotel
Were staying at the 4-star Dorint Hotel, located right on the straight of the Grand Prix-circuit, with the wonderful landscape of the High Eifel region in the background.

Event schedule
23 May - 15.00 Check-in at Dorint Hotel opens
23 May - 20.00 Welcome dinner in the hotel restaurant

24 May - Public day (Touristenfahrt) on the ring
24 May - 18.00-21.00 Special event 1: Dinner and drinks at Öhlins Test Centre

25 May - 08.00 Gran Turismo Nurburgring - track opens
25 May - 16.45 Special event 2: Fiat vs Ferrari
Spring is coming to the Nurburgring!
Gran Turismo Events is proud to announce a partnership with Öhlins Racing for Gran Turismo Nurburgring. This ensures world class technical support on suspension set-up for your car on the Nurburgring and a good opportunity to explore their wide range of racing products.

We're also invited for a special event at Öhlins Test Centre - dinner, drinks and an inside view of their operations, starting at 18.00 on Monday 24 May.
Special event 2: Fiat vs Ferrari!
You might have heard about these aimable little cars from the Gran Turismo Classico in 2009.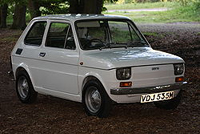 Now, it turns out that we still have one car in spare from last years event in our partners parking lot in Poland.

Since both of these cars come from the same industrial group we intend to do a comparison between the truly awesome polski Fiat 126p and the latest model Ferrari V8 (430 Scuderia/458).

The challenge is: can the Ferrari do two laps before the Fiat has done one? We have found a very brave polish rally driver to really give the Ferrari a run for its money, and intend to finish our day on the ring with this spectacular show of unharnessed power, speed and triumph of the italian car industry.
Participation
Participation is 1400 EUR (+VAT) for a car with driver + codriver. It includes two nights at the Dorint hotel, briefing dinner, an exclusive day on the Nurburgring (25 May), instructors, full safety package and an unbelievable experience to brag about back home. The cost can be invoiced to your company. To register, please use this registration form.