April fools' anyone? The Ferrari 812 Curva was, of course, pulling your leg. Thank you for all shares and comments. Most of all, thank you to Siim Päärn, who collaborated with us making the digital mockups of the naughty rent-only Ferrari. Want to see more of Siim Päärn's beautiful digitally modified cars? Follow @spdesignsest on Instagram.
Ferrari has a special department for their best customers - Corse Clienti. This department is for people with loads of cash. People who own cars like Enzo, LaFerrari, FXX and even Formula 1 cars. They use the cars during special events organised by Ferrari. Secret events very few people are invited to.
Wednesday night there was a sneak preview of the next super exclusive special version of a Ferrari car. It all happened in Hamburg, Germany. Only select Ferrari customers were invited. An elite group that can afford pretty much anything they desire.
"We have two types of customers. One has a Ferrari at home, and they use it once or twice a month. They save it for the Sunday morning, when the children are not around. The other type of customer has one at home, and one (or two) somewhere else. Somewhere outside the boundary of the home, and the immediate neighbourhood. Definitely outside their postal/zip code. An experience they keep for special occasions" - explains Dr Ing Naughtius Maximus, head of the Curva program.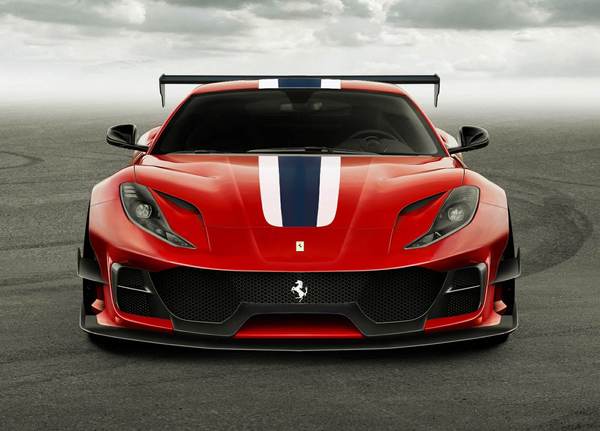 The Ferrari 812 Curva is not a normal car. It has much more power and is much more agile than the normal version of the Ferrari 812 superfast. The Curva is lighter. All excess fat has been shaved off by our engineers. The body is much more refined. More rigid. Tight. Beautiful.
The most important feature? You don't have to buy it. You don't have to invest a fortune and bring it home. No need to live with it forever, and see it become old and ugly. The Curva you can rent, and use it only when you want.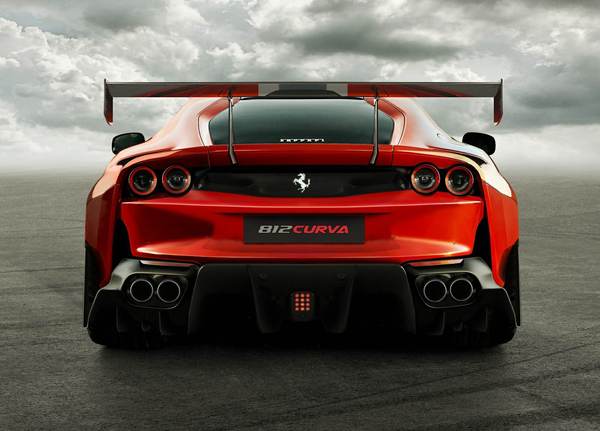 Going for a weekend getaway? Get the Curva. Want to impress your business associates for an important meeting? Get the Curva. Want to look fantastic on that golf tournament? Get the Curva. You don't need to bring the old bag you have at home. As with all events for Ferrari Corse Clienti, no media is allowed. Complete privacy is guaranteed.
The Curva is offered for a weekend, day or an hour. For the faster guys Ferrari also has a 15 minute option. There is no shorter time available than this - a sad moment for all the five second heroes of the socio-economic elite of the world.
Best part? When you are done using it, you return it to Ferrari. Do your thing, then pay and leave. Its a wonderful feeling to not have any responsibility after the weekend is over. Fire and forget. Let the specialists at Ferrari deal with all the drama and problems while you sip champagne in your private jet flying back home.
Fancy a Ferrari 812 Curva? Its too late. Following a long tradition of Ferrari introducing cars to the market, it is always already sold out for some reason.
"We love to show things people want to buy, and then tell them its already sold out. The best moment is when a customer calls us and wants to order a car. It always cracks us up! The entire sales team in Maranello gets a good laugh!" says Mr Loriano Pinocchio Jr, Senior Sales Specialist (Europe and North America) at Ferrari SpA in Maranello.

Complete 2018 Calendar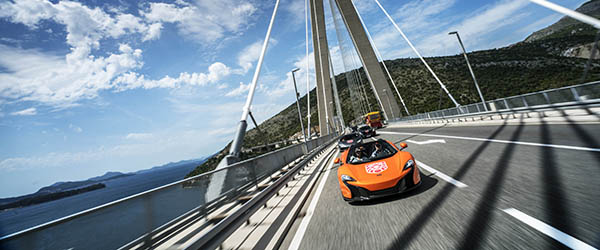 Gran Turismo Adriatica (5 - 13 May) // Fully booked
We start the season on the Adriatic coast, with a road trip from Croatia all the way to Greece. We start in Opatija and drive south through Croatia, Bosnia, Montenegro and Albania before we finish with a weekend in Thessaloniki in Greece. // Fully booked
>> http://www.granturismoevents.com/gran-turismo-adriatica-2018/
Gran Turismo Nurburgring (27- 30 May) // Fully booked
The most challenging racing track in world. 21 kilometers of fun. As always, we have two exclusive days on the track and three nights in Nurburg. This event is limited to 144 cars. // Fully booked

>> http://www.granturismoevents.com/gran-turismo-nurburgring-2018/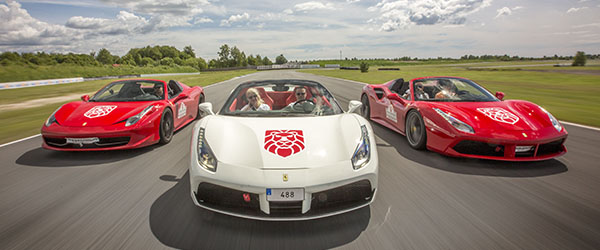 Gran Turismo Polonia (27 June - 1 July) // Fully booked
Gran Turismo Polonia. As always we have three days on track, and four nights of fun in Poznan, Poland. With almost 200 cars joining from all over Europe, Gran Turismo Polonia is the most important super car event in the former eastern bloc. // Fully booked
>> http://www.granturismoevents.com/gran-turismo-polonia-2018/
Gran Turismo Baltica (24 - 29 July)
After six(!) years in Pärnu it is time to try something new. For the 2018 edition of this event we go to Riga and Bikernieku racing track. The track is only 7 km from the city centre, and we stay in the number one hotel in town - Radisson Blu. Three days of driving on the track. The last day (Saturday) we close down four streets in the city for a street show. While Riga has almost the same population as Stockholm you can be sure that we will have a lot of attention.
>> http://www.granturismoevents.com/gran-turismo-baltica-2018/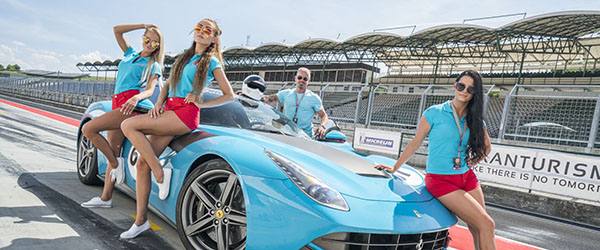 Gran Turismo Hungaria (14 - 19 August)
Hungaroring and Budapest are awesome. In 2018 we are coming back. This time we will have three days on track - Wednesday, Thursday and Friday. The last day, Saturday, we organise a super car road trip through Budapest to Lake Balaton for lunch (and back).

Just like in 2017 we will be staying at a hotel on the Danube, walking distance to all the great night life of Budapest. The days we will spend on the F1 race track hungaroring, and the nights will be in town. Every evening we will have a dinner reservation at new and exciting place.
>> http://www.granturismoevents.com/gran-turismo-hungaria-2018/
Gran Turismo Europa (25 August - 2 September)
While in 2017 we tried something completely different, in 2018 we are back with the classic Europa road trip. For the 2018 Europa tour we return to Switzerland and the most beautiful mountain passes in the world. Say hello (again) to Stelvio pass, Grimsel- and Furka pass. Fully booked.

>> http://www.granturismoevents.com/gran-turismo-europa-2018/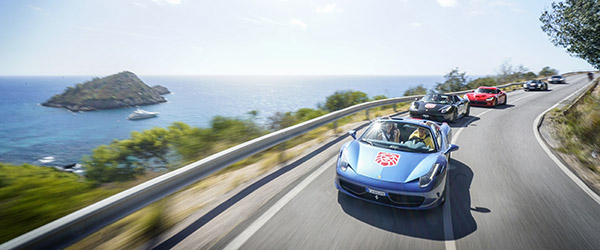 Gran Turismo Italia (8-16 September)
Following our Tuscany event in 2017, we are organising a new event in Italy in 2018. Next year we intend to explore the beautiful southern part of Italy. Start is in the Vatican(!) on the 8th of September. Then we drive south towards the Amalfi coast and Positano, Calabria and Puglia. Fully booked.

>> http://www.granturismoevents.com/gran-turismo-italia-2018/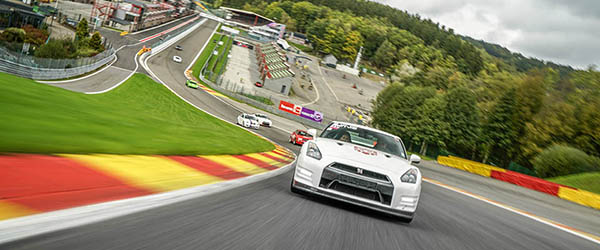 Gran Turismo Spa (25-28 September)
For many, Spa-Francorchamps is the best racing track in the world. It has become a tradition to finish our seasons on here. As always we will have two full days of driving on the track, and three nights in Hotel de la source, located just by the track.